There are 44 active users currently online.
---
---
RŒSH
CLOCKWORK ANGELS TOŒR
Concert Pictures

American Airlines Center - Dallas, Texas
November 28th, 2012

---
The "Clockwork Angels" Tour spanned from:
September 7th through December 2nd, 2012 and April 18th through August 4th, 2013
---
|Tour Dates| --- |Set List|
---
Progressive rockers Rush tower over a sold-out crowd to deliver a mind-blowing three-hour concert at American Airlines Center
Rush is epic. This isn't a revelation, of course. The legendary progressive rock band carved its niche long ago by finding the ideal balance between high concept themes paired with grand musical flourishes and the straightforward, visceral energy of good old rock 'n' roll. As the '70s gave way to the '80s, Geddy Lee, Alex Lifeson and Neil Peart introduced synthesizers and moved away from the multi-chapter suites that defined the earlier records.
Today, nearly four decades after its 1974 debut album, Rush remains an all-encompassing force. Case in point: Wednesday night's concert at American Airlines Center was sold-out. It was also a whopping three hours, sliced in half by a 20-minute intermission. For Peart, 60, Lee and Lifeson, both 59, there is nothing more to prove yet they deliver anyway. The current "Clockwork Angels Tour" looked and felt even more elaborate than the "Time Machine Tour" that stopped in Dallas two years ago. The second half of the show featured a string ensemble. Plus, both Peart and Lifeson got plenty of solo time on their instruments. Lee kept it all cohesive with his still strong, wailing voice and double duty on the bass and keyboards.
Oh and a film crew was taping the performance for an upcoming concert DVD. The Phoenix gig three days ago also got filmed for posterity.
For me, three songs stood out taller and more memorable than all the other gems. "The Body Electric," an outstanding anthem from 1984′s equally excellent Grace Under Pressure, was intoxicating with its catchy refrain "1-0-0-1-0-0-1 SOS" and the swirling synthesized rock ambiance. "Clockwork Angels," the title track of the band's stunning latest disc, was sweeping with its panoramic prog-rock structure and head-swelling vibe. Add 10 hanging video panels and that quirky, colorful stage was a feast for the eyes. Finally, "The Big Money" from 1985′s Power Windows blazed a trail at the very beginning of the gig. It is one of Lee's most forceful vocal performances and a song that still resonates lyrically today.
Clockwork Angels dominated much of the concert. The second half featured 10 cuts from the album, including "The Wreckers," "Carnies" and "Wish Them Well." Power Windows got some attention, with three from that effort. Roll the Bones sneaked in with another three. The 2010 concert treated us to 1981′s landmark Moving Pictures in its entirety. This time there were only two from Pictures – "YYZ" and the classic "Tom Sawyer," which opened the encore.
Song selection is certainly important during a Rush concert given that the group has 20 studio albums to pull from. So it's always fascinating to note where they will focus their attention. But what continues to be paramount is this group's inspired longevity. Clockwork Angels is one of the best Rush albums period. Onstage these crafty Canadians come equipped with eye-popping visuals, particularly that impressionistic video during "The Garden," and plenty of pyrotechnics. For "Caravan" explosions, flames and sparklers were going off at once. Peart's 360-degree drum kit is a thing of beauty, and he plays it with such broodingly muscular gusto.
Simply put, Rush is epic.
-Mario Tarradell / Music Critic
---
The following pictures are courtesy of Stephen J Pollard and Stan Olszewski of the The Dallas Morning News
---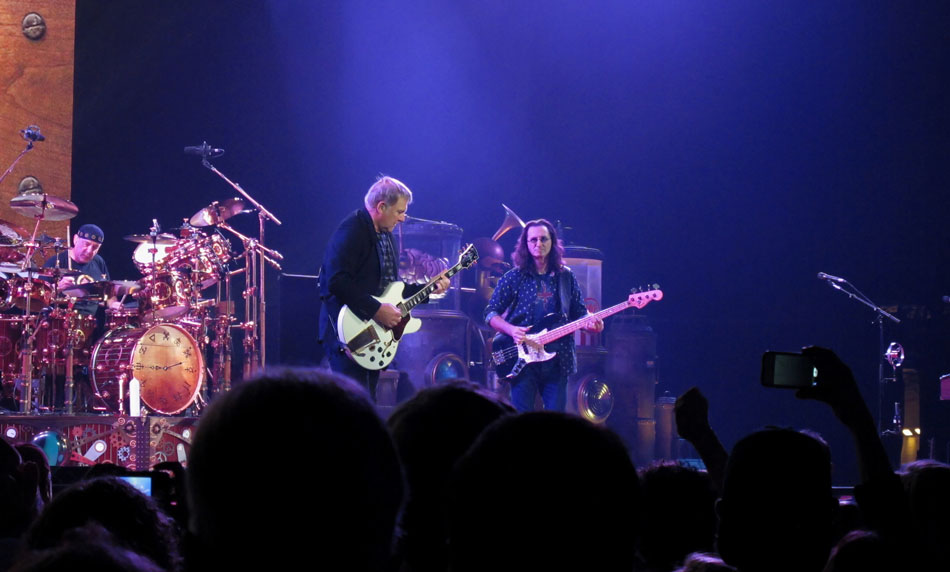 ---
---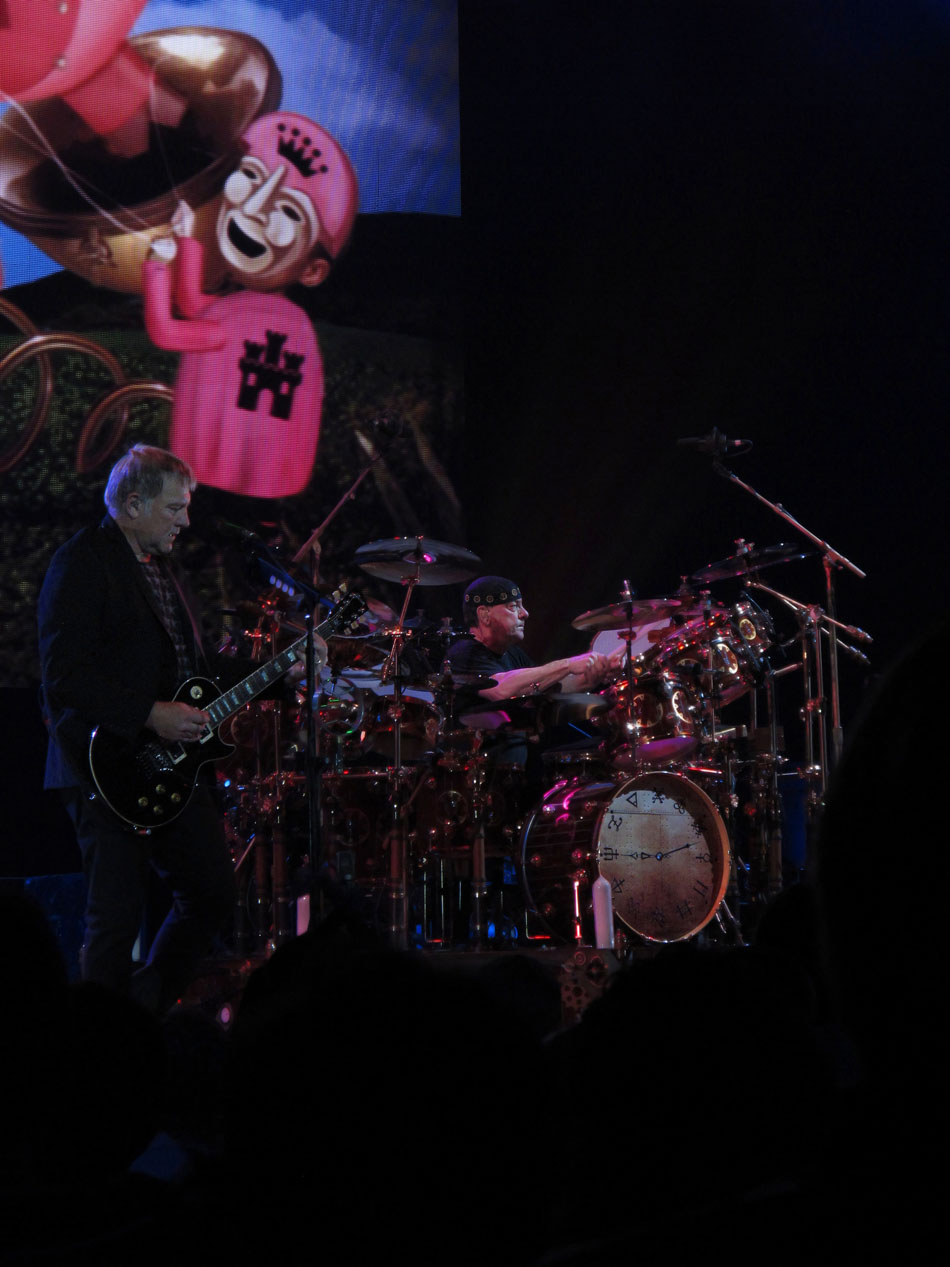 ---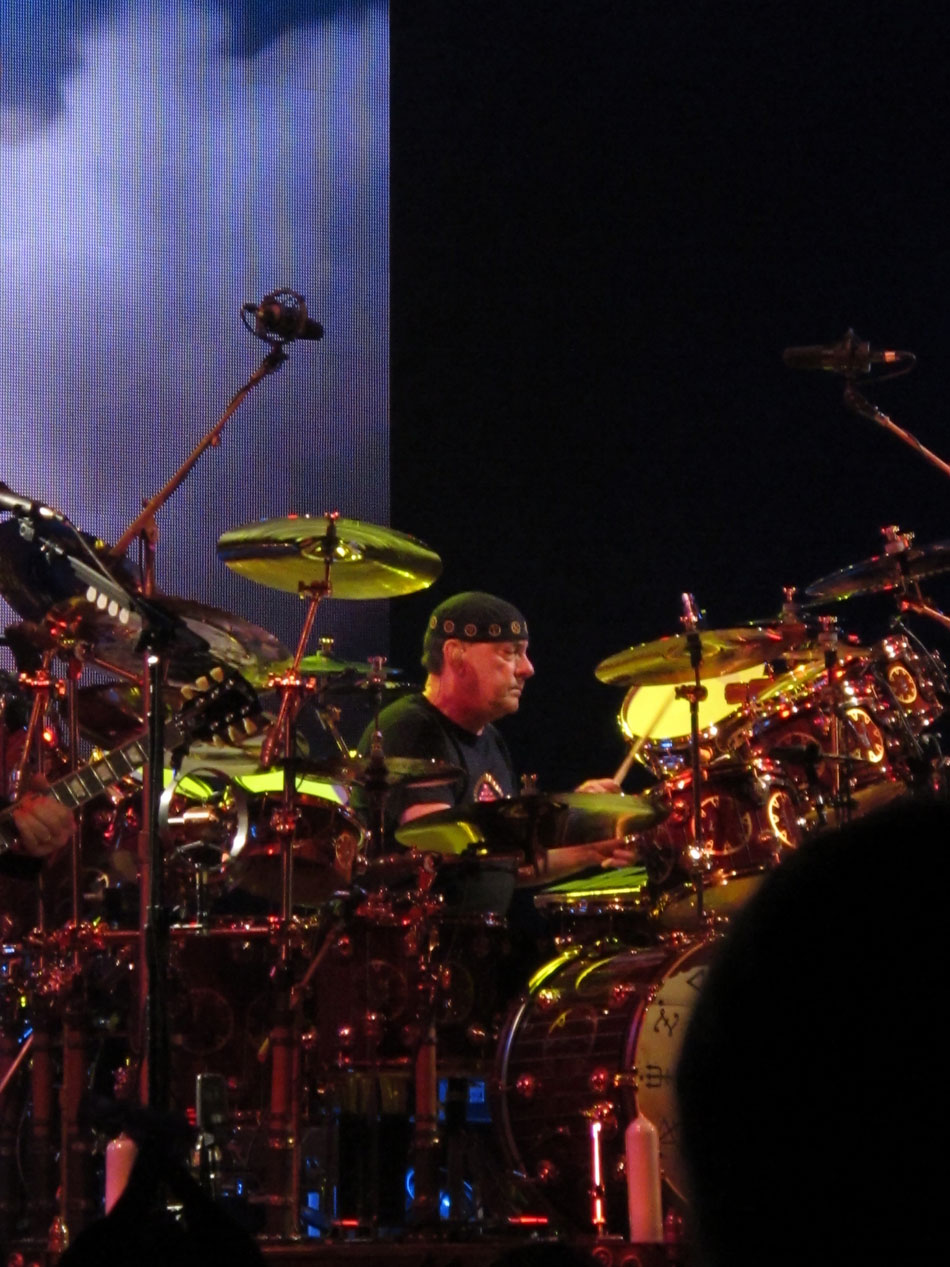 ---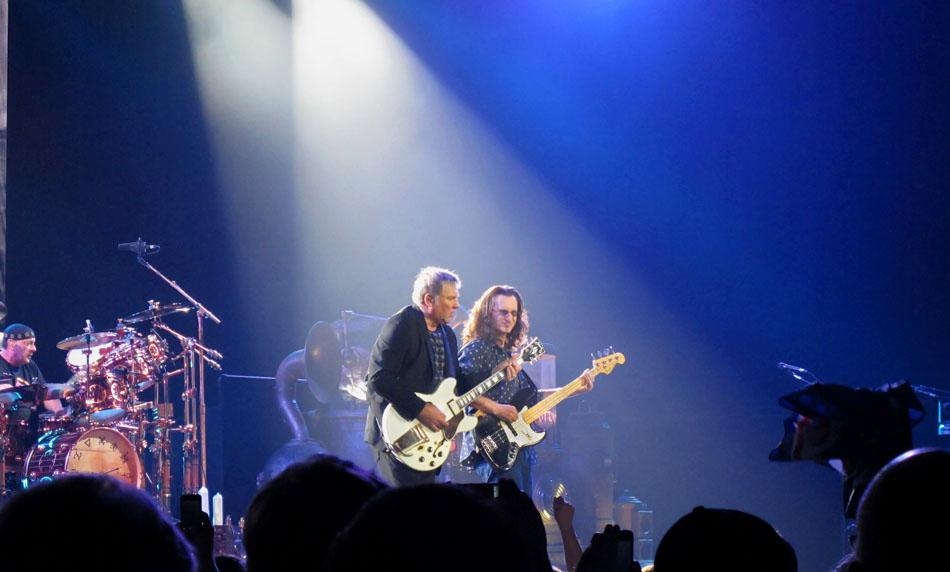 ---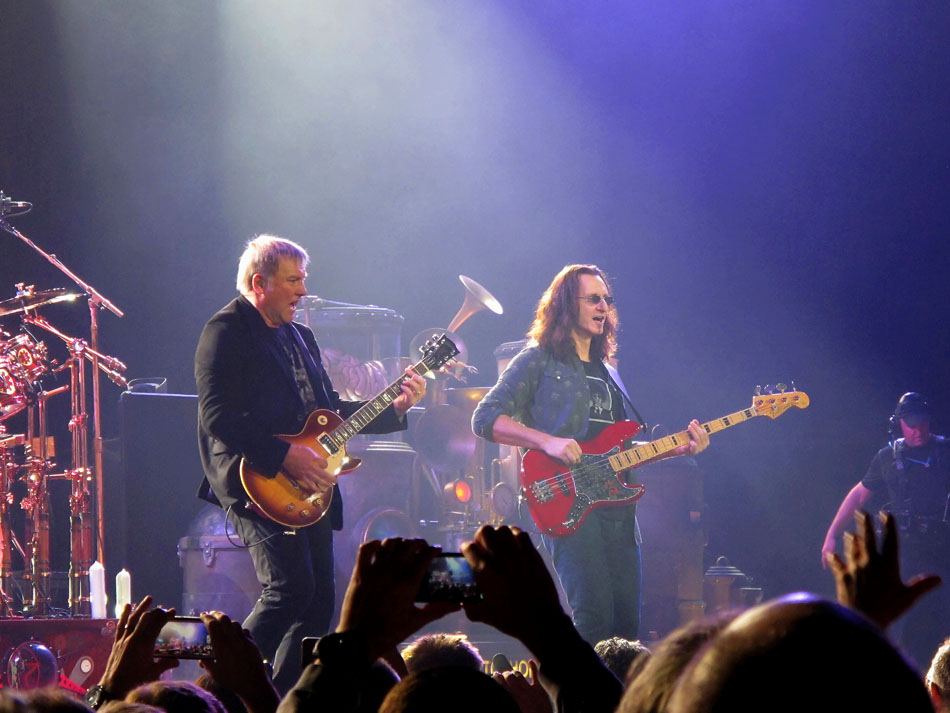 ---
---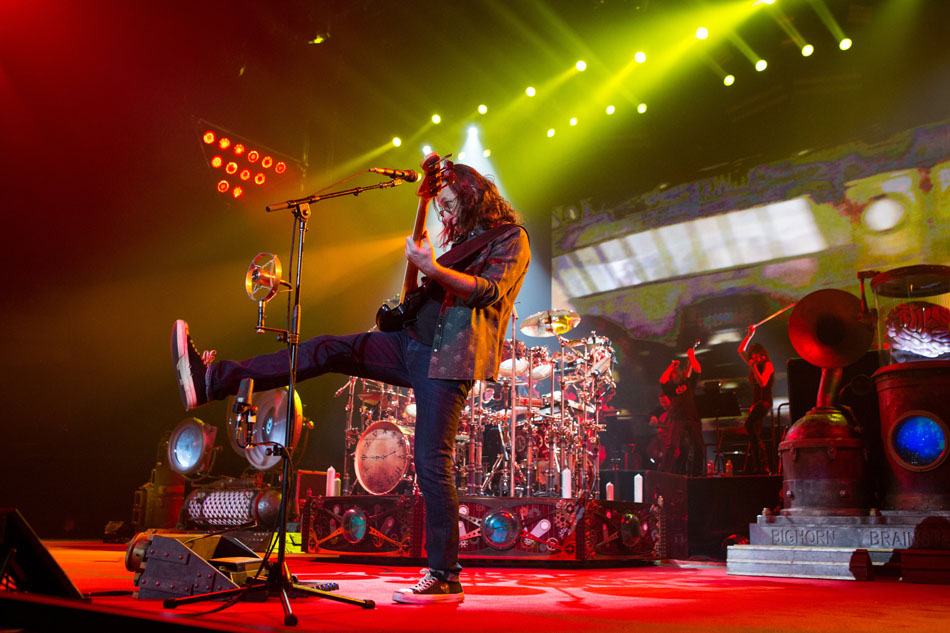 ---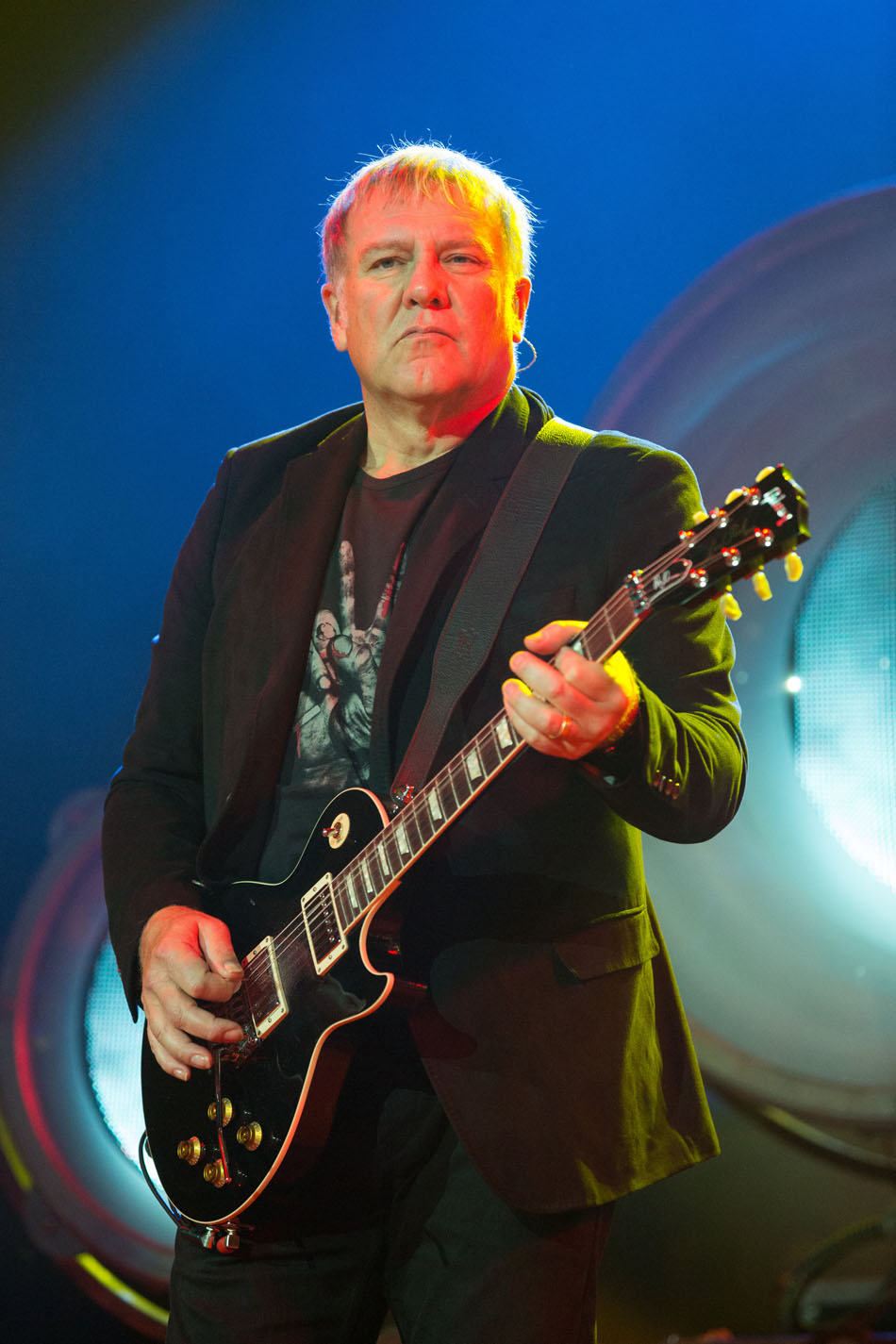 ---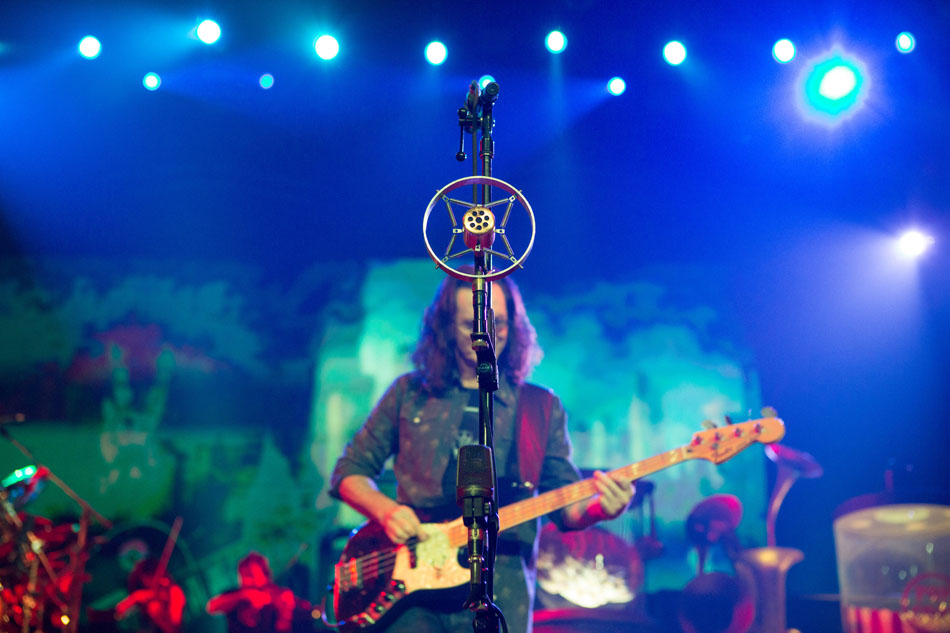 ---
---
|Back to Top|
---