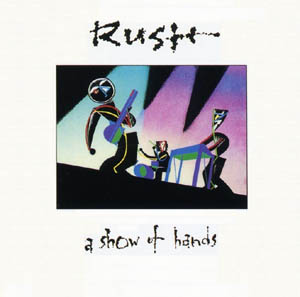 There are 26 active users currently online.
---
A SHOW OF HANDS (LIVE)
Album Review
---
---
All reviews are (c) Patuto Enterprises and originally appeared at Epinions.Com
---



Stand up and Cheer for A Show of Hands



Pros: Excellent performances. Strong, powerful music. Good representation of their 80's works.

Cons: A little too polished at times for a live album.

The Bottom Line: Rush Live - 80's style. A great collection of their techno-progressive music played with the intensity of a live concert.
---
The 1980's were drawing to a close as Rush completed the third phase of their career with the release of their third LIVE album - A Show of Hands. This live offering was recorded in various cities during the Hold Your Fire concert tour.

As such, this effort is packed mostly with the later 80's tunes from their 'Grace Under Pressure', 'Power Windows' and 'Hold Your Fire' albums, with a small sprinkling from their other older works.

For the first time, however, Rush didn't concentrate on capturing one live concert as they did on their two previous live albums; 'All the World's a Stage' and 'Exit...Stage Left'. Instead, and perhaps due to their more world-wide appeal these days, Rush took one or two live songs from various venues and seamlessly linked them all together to create one long flowing, if not a little too scripted, pseudo-concert.

Because of this, on a whole, A Show of Hands can feel a little less than a live album and a little more like a studio album. But take each track separately, and you're indulged with the continuing musical genius that Rush is known for when playing live.

The 15 tracks on this album include:

1. Intro
Rush has a sense of humor. Some people didn't realize it even despite the witty naming of their previous live album - 'Exit...Stage Left'. But now they were clearly enjoying themselves. This 1-minute intro is straight from the musical theme song of the 3 Stooges. How perfect is that? A power trio playing 3 Stooges material. Classic and fun. A great way to start of the album and a perfect segue into the next track.

2. The Big Money
The heavy synth and guitar sounds in this song are magically transformed into more powerful and complementing sounds as Rush wails away into controlled mayhem. Starting off the show with a bang, The Big Money immediately gets the crowd pumped up, as well as the listener.

3. Subdivisions
Still one of the most popular Rush songs, the heart-pounding opening synth lines to Subdivisions is instantly recognizable - and the crowd reacts accordingly. As neat and concise as the original, with a little live flair, Rush shows that they're simply not a band that hides behind overly produced studio albums. What they put on an album then can play live. And play can they ever...

4. Marathon
From their 'Power Windows' album comes Marathon. This track was released as a single from A Show of Hands and for good reason. It's even better than the studio counterpart. The energy behind the lyrics are perfectly captured throughout the powerful music that this power trio can generate. Increase the volume on this one - its well worth the slight loss of hearing that may result.

5. Turn the Page
The first offering from their 'Hold Your Fire' album comes off a little slower and uninspired than some of the other tracks. A sound song from the studio version, and a fine reproduction live, it just doesn't seem to have any of that spunk that Rush normally injects into their live offerings. Still, a good song. Just not their best.

6. Manhattan Project
The opening drum sequence is chilling and the rest of the song superb as Rush uses intensity to discuss an intense subject - the creation of the first Atomic bomb. The tempo of this song quickens as it progresses, and Rush easily deliver as much energy - and more - as the song requires. Great crowd reaction to this one.

7. Mission
This track, also from 'Hold Your Fire' starts off slow and steady with heavy synths and then explodes into a powerful combination of guitars and percussions that ignite the crowd. A good song that has been made better by the live energy that Rush is famous for. Another one to turn up the volume to.

8. Distant Early Warning
The first song from their 'Grace Under Pressure' album is their best. DEW is a powerful studio song, but nothing captures its true essence than a live version. And this one doesn't disappoint. With its extended introduction that slowly builds up to the first few opening and recognizable guitar riffs, DEW is pure magic. Not quite as powerful as the live version that appears on the Grace Under Pressure concert video, this version is still as enjoyable to listen to and experience - at high volumes.

9. Mystic Rhythms
From the 'Power Windows' album, this track was somewhat of a departure for Rush, yet it became wildly popular. The live version, however, is something to behold. The complex sounds of this song captured live seem almost impossible to achieve, let alone for a 3 member band. But Rush is up to the challenge and it shows. Intricate sounds that seem to change with each new listen, this is a rare gem and a showcase of Rush's immense musical talent.

10. Witch Hunt (Part III of Fear)
The only offering from their 'Moving Pictures' album, Witch Hunt which was a chilling retelling of a vigilante group hell-bent on hunting down an accused witch, loses something in the translation from studio to live version. The studio version, in all of its 4 minutes and 43 seconds, painted a powerful picture. The live version, for some reason, just seems a little off. Still a rare pleasure to hear live, which is doubtless why it was included on this album, the studio version seems to stand out as significantly superior to this version.

11. The Rhythm Method (Drum Solo)
If you thought the smackering of a drum solo that appeared on Rush's 'All the World's a Stage' live album was interesting and brimming with potential, and if you thought that the intense and awe-inspiring drum solo inter-mixed with YYZ on their 'Exit...Stage Left' live album was inhuman, then just wait until you hear Neil Peart's perfected percussion pounding with this one. Just listen - trust me.

12. Force Ten
It's time to have some more fun, and the later part of the album reflects this nicely. Starting off with Force Ten from 'Hold Your Fire', Rush rockets back into some powerful and fun music. A stereophonic masterpiece, Force Ten again shows how versatile this Canadian trio can be when playing live.

13. Time Stand Still
As it did on the studio album, Time Stand Still follows Force Ten. The recorded add-on vocals by Aimee Mann seem to detract from this live version a little bit. Truth be known, many fans were hoping Geddy Lee would just sing the vocals that Ms. Mann had covered on the studio album. No such luck. But this track is still energetic and pleasing to listen to.

14. Red Sector A
Another studio song, which was great, is turned into something better for its live counterpart. From their 'Grace Under Pressure' mini-concept album, Red Sector A raises the bar of intensity. You can hear the perfection that Rush typically generates here. But along with that perfection, you can sense their emotions that run deep within this song. A great effort worthy of multiple listens.

15. Closer to the Heart
Arguably one of the favorite live song in all of Rush's catalog of music, Closer to the Heart closes this live album and closes the show by once again instilling delight and humor into the performances of Rush. With its great extended ending, Closer to the Heart, along with the singing crowd, has never sounded better. Another gem.

15 tracks detailing the 15 year career of Rush. A fine example of their 80's techno-sound that can be a little too polished at times, especially for a live album, but still a lot of fun to listen to and experience.

Living up to their name, they always provide a Rush...

Enjoy the ride and thanks for reading...


---
|Back to A Show of Hands Album Info|
---
|Read More Reviews on A Show of Hands|
---