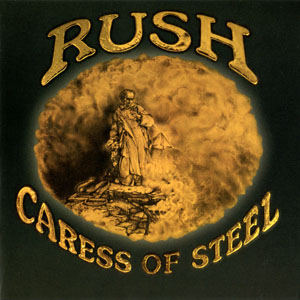 There are 23 active users currently online.
---
---
CARESS OF STEEL
Album Review
---
All reviews are (c) Patuto Enterprises and originally appeared at Epinions.Com
---



Rush's Caress of Steel - The Polished Steel That Gleams



Pros: Epic adventures that begin the definition of early Rush

Cons: None.

The Bottom Line: The definitive Rush album. It's more than music...it's an artful and dynamic adventure...
---

It's ironic to think that the album that was once considered the "end" of Rush is now so overwhelmingly accepted as one of their finest and most polished pieces of work. But that was the case with Caress of Steel. Riding on the coat tails of their successful 'Fly By Night' album, released just 10 months prior, Caress of Steel took Rush into a new and epic direction. Unfortunately, it took the fans and media a while to warm up to the mystical lyrics and dynamic melodies that Caress of Steel had to offer.

In fact, it can be viewed as a Tale of Two Sides. 'Side 1', as it were, contains 3 songs of 'average' length. Where in 'Side 2' contained a mere 2 songs. Wait, strike that. They weren't just 'songs' like any rock band developing in the 70s might put out. No, they were more like an experimentation and reflection of the dynamics that Rush was destined to be famous for. They (the band, the fans, the media) just didn't know it at the time. But they were going to get a glimpse of magic and, years later, revisit an album that today is considered an undeniable masterpiece.

1. Bastille Day
Starting with Bastille Day, Rush continues it's hard and edgy sound that they captured in 'Fly By Night'. This song is driven by two sources - Alex's grinding, heavy-set guitar licks and Geddy's falsetto vocals that reach heights few mortals can obtain. While its done expertly live, the studio version includes subtleties that a live version simply can contain. A fan favorite for many years, this was a great way to start of the album, albeit not a reflection of what was yet to come.

2. I Think I'm Going Bald
Rush takes a left turn, as some would put it, with the, well, interesting entry of I Think I'm Going Bald - a view on getting old with with grace. It contains the great line, "But even when I am gray, I'll still be gray my way" That single line probably defines the musical direction of Rush over the years better than any other. They've continued to grow, mature and change as a band over the years, but they always did it 'their' way - never following the pack, always leading it in their own direction. That's the definition of Rush. That's the definition of this album.

3. Lakeside Park
Closing out Side 1 is the up-tempo and catchy Lakeside Park, a tune about summer and friends and enjoying life. Taking on a slower pace, this highlights Alex's classical guitar playing and Geddy's ability to tone down his vocals when required. Nicely done song that's still a favorite today.

But Caress of Steel didn't reach near-legendary status by these three songs - despite their enjoyability factor. No, it was Side 2 that brought Rush into the limelight - so to speak.

Side 2 is made up of two epics that have to be listened to repeatedly to be fully understood, respected and comprehended.

4. The Necromancer
First comes The Necromancer, a dark and brooding tale that shows how intricately this Canadian trio can weave their musical magic into true works of art. Geddy Lee's singing is put to the test as he puts his own interpretations of the masterful lyrics handed to him by percussionist Neil Peart. Alex Lifeson has his hands full as well as The Necromancer calls for challenging time changes and effects that he pulls off beautifully. The track is segmented into three sections: I. Into Darkness, II. Under The Shadow and III. Return Of The Prince.. Each deliciously vibrant on their own, but formed together, they create magic. One of Rush's best early epics.

5. The Fountain of Lamneth
But if the epic The Necromancer wasn't enough for you, enter the final piece of magic on Caress called The Fountain of Lamneth Clocking in at almost 20 minutes in length, Lamneth shows Rush at their pinnacle thus far. Highlighted by the heart-wrenching Panacea mini-track/ballad, Lamneth pulls you into a story board tale of times past. Some may say it's somewhat disjointed, but I totally disagree. From the opening chord, to the final 'book closing' effect, The Fountain of Lamneth remains one of Rush's finest, and seriously underrated works of art. As with the preceding track, The Fountain of Lamneth is broken into segments - six in all: I. In The Valley, II. Didacts And Narpets, III. No One At The Bridge, IV. Panacea, V. Bacchus Plateau and VI. The Fountain.

Caress of Steel may have been considered the end of Rush for a brief period of time, but someone knew it was just the beginning?

Experience a type of music that is totally unique, totally mind-bending, totally mesmerizing...totally Rush.

Enjoy the experience. Enjoy the Rush.

Thanks for (re) reading...


---
|Back to Caress of Steel Album Info|
---
|Read More Reviews on Caress of Steel|
---