There are 11 active users currently online.
---
---
The Tom Sawyer's Treasures Fanzine Archive
---
It was the Spring of 1993. Rush were writing and recording their new album, a follow-up to the platinum-selling 1991 album 'Roll the Bones.' The exploding popularity of the Internet was still a handful of years away, so Rush fans the world over connected largely through fanzines.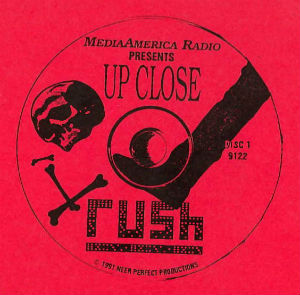 At that time, two fanzines - the popular 'The Spirit of Rush' from the United Kingdom, and America's 'A Show of Fans' - brought news, reviews, and updates to fans the world over. Was there room for yet another fanzine?

Well, Jim Wright and Chris Jones from Scotland certainly thought so. The pair decided to release 'Tom Sawyer's Treasures: A Rush Collectors' Fanzine.' As the sub-title suggested, this fanzine would focus on the world of Rush vinyl and CD collectibles. As Wright and Jones indicated in their inaugural issue:
In this new fanzine we will be dissecting rare Rush vinyl, CDs, etc, right down to the matrix number. Our aim is to inform collectors/fans of the worldwide rarities available and by giving a detailed description we hopefully will encourage more of you out there to start collecting. The time has never been better as record companies are now producing less vinyl but more CDs and tapes. This means that vinyl prices will soar in the future (but don't tell anyone!).
Unfortunately, 'Tom Sawyer's Treasures' was short-lived, producing only three issues in all, the last of which was released in the Spring of 1994. A note from Wright and Jones in the final issue indicated that the fanzine would merge with another fanzine of the time; Eric Ross' 'Rush: A Discography.'

As Rush's career continued, and the age of the internet took hold, the fanzines became a thing of the past. 'The Spirit of Rush' and 'A Show of Fans' developed a significant following, which wasn't surprising given how many issues each respective fanzine published. However 'Tom Sawyer's Treasures' slowly faded from the memories of many fans.

Until now.

I'm thrilled to bring this 'Collectors' Fanzine' back into the limelight with a new online archive. Each of the three issues, plus an early issue of Eric Ross' Discography, are included in this archive. Enormous thanks go out to David Hodgkinson for providing the exceptional scans of each fanzine.

I'm also hopeful to uncover additional issues of Eric Ross' Discography for inclusion in this archive.

I hope you enjoy this look back at Rush's history.

-John
---