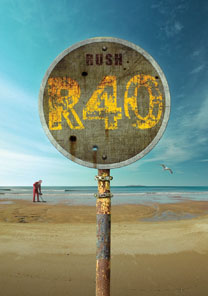 There are 25 active users currently online.
---
---
R40


Released: November 11th, 2014

Certification: N/A - Highest Billboard Chart Position: 2

View All Album/Video Certifications


---
|Discs & Tracks| --- |Liner Notes| --- |Video Trailers| --- |Box Set Artwork & Photos| --- |Purchase|
---
Liner Notes

RUSH
R40

R40 features 40 years of Rush live

Presented in a 52-page book on 6 Blu-rays, featuring rare band performance photos and an introduction by music journalist Martin Popoff.

Over 2 hours of unreleased footage including:

• Rare "2112" live performance in its entirety!

• 8 songs from 1974 Laura Secord Secondary School performance with John Rutsey, featuring:
- 2 never-before-heard songs "I've Been Runnin"' & "The Loser"
- Unreleased cover of "Bad Boy" made famous by The Beatles

• Closing tour film from Time Machine "I Still Love You Man" starring Rush with Paul Rudd & Jason Segel

• 2013 Rock & Roll Hall of Fame Induction Ceremony
---
Executive Producers: Pegi Cecconi/Ray Danniels/John Virant

Content Producer: Allan Weinrib

Art Direction, Illustrations and Design: Hugh Syme

Photo Curation: Patrick McLoughlin

Production: Brian Schuman

Video Production: Elizabeth Boettcher

Project Management: Liza Levy

R40 Bonus Disc Credits

Laura Secord Secondary School, 1974, St. Catharines, Ontario
Capitol Theatre, 1976, Passaic, New Jersey
Lock and Key, 1988, Hold Your Fire Tour

Test for Echo Tour:
Molson Amphitheatre, June 30, 1997, Toronto, Ontario
Produced by Revolver Film Company, Director: Don Allan
Mixed by David Bottrill, Mainstation Toronto, Ontario
Digital Editing: Mike Monson and Ryan McCambridge
A&R: Andy Curran

I Still Love You Man (Closing film from Time Machine Tour), 2011
Featuring: Paul Rudd, Jason Segel
Writer/Director: John Hamburg

Rock & Roll Hall of Fame Induction, April 18, 2013, Los Angeles, California
© 2013 Rock & Roll Hall of Fame Foundation Inc.

© 2014, Ole Core Music Publishing (SOCAN/SESAC)
Administered by Ole.
All Rights Reserved. Used by permission.
---
It is not uncommon to meet fans that have notched over 100 Rush shows, and the contents under pressure within this box demonstrate ably why such super-fans exist. From the start, Rush has worked tirelessly toward headline status and never looked back. Through relentless touring, despite lack of radio play, and through the building of a show and setlist that continually keeps fans intrigued, Rush has remained a touring force for four decades.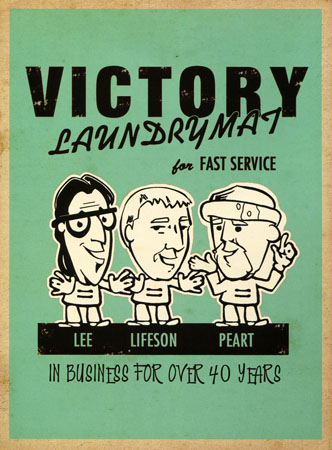 The 40th anniversary of the band - represented by this R40 collection - gives opportunity to present the plush visuals and sonics that pushed Rush to their present status as hard-won rock icons. In other words, the evolution of the trajectory toward the burnished and polished multi -sense insanity that is Time Machine and Clockwork Angels becomes well pronounced over the course of this package.

It is well documented that Rush fans revere the band for the three-hour mass of their show (rolling into town with no support act), the extensive backscreen video, the futuristic lights, the skits 'n' surprises that take place, the props like the chickens and dryers as well as the eight-piece string section adding texture to the Clockwork Angels campaign. Ergo, we see the evolution from the goodly glam of band emcee John Rutsey at Laura Secord High, through the classic rock ideals of the legendary Passaic bootleg, the arch-'90s tech of the Test For Echo campaign, and the flood of human emotion that is Rush In Rio.

Move forward still into the most recent components of this box, and what is on graphic display is the sweat ethic of a band that dared to become rock titans through the deliberate act of pressing all their intellectual and financial faculties into building the ultimate superhero rock show - and then surpassing it a few years later, rinse, lather, repeat.

"Exactly," says crucial crew pro since '76, Tony Geranios. "Each new tour, the band would try to deliver something that they hadn't delivered before, that was maybe difficult and a bit beyond. They'd make a statement musically that they hadn't been able to - or hadn't considered - before. Every presentation has its own magical, new and forward-thinking portion to it. Contributing as well to the grandeur of the thing... after the keyboards started becoming a prevailing part of the sound, it was tying Geddy to the keyboards quite a bit, and Alex to the pedals. And I think the concern was that there was wasn't enough action on stage; they felt they should be running around and rocking out. And that's when the video became more of an important factor. So you get the lasers, the lights, videos, music, and to me, that follows along with the band's philosophy of creating a show of huge impact."

So while the band pushed themselves to new limits, they demanded the same from the crew and team that worked on their live show. Using all of the new technology and innovations available, Rush's celebrated and long-time Lighting Director, Howard Ungerleider, continually pushed the envelope. From lasers to pyro, to the advent of moving lights in the '80s, to a gigantic five-ton "spider" that undulated over the band, the senses were maniacally overloaded. And then there are Neil's custom drum kits ...

The result is a top-tier rock act rewarded with such dependable and perennial ticket sales that in fact, their time as a support act with few lights and curtailed PA was in fact quite brief and very, very long ago. And so as it turned out, quite remarkably, Rush began headlining in the late '70s and then never ceded that position. Even as record sales and relative imprint on the music scene waxed and waned, the show remained somewhere between robustly sized and defiantly outsized. As alluded to, Geddy, Alex and Neil never looked back.

Martin Popoff
---
This compilation © 2014 Anthem Film & Television Productions Inc.
Under exclusive license to ZoeVision, a division of Rounder Records.
Manufactured and distributed by ConcordMusic Group, Inc.
100 N. Crescent Drive, Beverly Hills, CA 90210
All Rights Reserved, Unauthorized duplication is a violation of applicable laws. Made in the U.S.A.

© 2014 ole Core Music Publishing (SOCAN/SESAC) Administered by ole All Rights Reserved/Used by Permission. 666999367021
---
Other Notes

• This marks the first time that Rush In Rio is avaialable on the Blu-Ray format.
• The "R40 Completest" DVD was only made available in box sets sold at the Rush Backstage Club and Best Buy.
• From the R40 Press release:
"2014 marks the 40th anniversary of the release of Rush's eponymous debut album in 1974. This superb collector's box set brings together live performances by Rush from each decade of their career. It includes 'Rush In Rio', 'R30', 'Snakes & Arrows Live', 'Time Machine 2011: Live In Cleveland' and 'Clockwork Angels Tour' plus a bonus disc of previously unseen live material stretching from 1974 to 2013. Rush are renowned for the energy and excitement of their live concerts and this set brings together some of their finest performances. The 6 Blu-ray discs are contained in a stunning 56 page hardback book measuring 305mm x 225mm with the 6 discs contained in 5 additional rigid insert pages. The 56 pages of the book are filled with memorabilia and photographs documenting 40 years of Rush live in concert. This is the ultimate collection of Rush live performances, beautifully presented."
---
Trailers

---
Discs and Track Listings

R40 BONUS
Laura Secord Secondary School, 1974, St. Catharines, Ontario
Need Some Love
Before and After
Best I Can
I've Been Runnin'
Bad Boy
The Loser
Working Man
In the Mood (partial)

Capitol Theatre, December 10, 1976, Passaic, New Jersey
Bastille Day
Anthem
Lakeside Park
2112
Fly By Night/In the Mood

Lock and Key, Hold Your Fire Tour

Molson Amphitheatre, June 30, 1997, Toronto, Ontario
Limelight
Half the World
Limbo
Virtuality
Nobody's Hero
Test for Echo
Leave That Thing Alone/Drum Solo
2112

I Still Love You Man, 2011 (Closing Film from Time Machine Tour)

Rock & Roll Hall of Fame Induction, April 18, 2013, Los Angeles, California
© 2013 Rock & Roll Hall of Fame Foundation Inc.

2112: Overture
Featuring Dave Grohl, Taylor Hawkins & Nick Raskulinecz
Tom Sawyer
The Spirit of Radio
---
RUSH IN RIO
Tom Sawyer
Distant Early Warning
New World Man
Roll the Bones
Earthshine
YYZ
The Pass
Bravado
The Big Money
The Trees
Freewill
Closer to the Heart
Natural Science

Intermission

One Little Victory
Driven
Ghost Rider
Secret Touch
Dreamline
Red Sector A
Leave That Thing Alone
O Baterista
Resist
2112
Limelight
La Villa Strangiato
The Spirit of Radio
By-Tor and the Snow Dog / Cygnus X-1 / Working Man

The Documentary: The Boys in Brazil
a film by Andrew MacNaughtan
---
R30
R30 Overture:
Finding My Way
Anthem
Bastille Day
A Passage to Bangkok
Cygnus X-1
Hemispheres
The Spirit of Radio
Force Ten
Animate
Subdivisions
Earthshine
Red Barchetta
Roll the Bones
Bravado
YYZ
The Trees
The Seeker
One Little Victory
Tom Sawyer
Dreamline
Secret Touch
Between the Wheels
Mystic Rhythms
Red Sector A
Der Trommler
Resist
Heart Full of Soul
2112
La Villa Strangiato
By-Tor and the Snow Dog
Xanadu
Working Man
Summertime Blues
Crossroads
Limelight
---
SNAKES & ARROWS LIVE
Limelight
Digital Man
Entre Nous
Mission
Freewill
The Main Monkey Business
The Larger Bowl
Secret Touch
Circumstances
Between the Wheels
Dreamline
Far Cry
Workin' Them Angels
Armor and Sword
Spindrift
The Way the Wind Blows
Subdivisions
Natural Science
Witch Hunt
Malignant Narcissism - De Slagwerker
Hope
Distant Early Warning
The Spirit of Radio
Tom Sawyer
One Little Victory
A Passage to Bangkok
YYZ

Oh Atlanta! The Authorized Bootlegs
Ghost of a Chance
Red Barchetta
The Trees
2112/The Temples of Syrinx
---
TIME MACHINE: 2011 LIVE IN CLEVELAND
Set One: The 'Real' History of Rush Episode No. 2 "Don't Be Rash"
The Spirit of Radio
Time Stand Still
Presto
Stick It Out
Workin' Them Angels
Leave That Thing Alone
Faithless
BU2B
Freewill
Marathon
Subdivisions

Set Two: The 'Real' History of Rush Episode No. 17 "...and Rock and Roll is my name."
Tom Sawyer
Red Barchetta
YYZ
Limelight
The Camera Eye
Witch Hunt
Vital Signs
Caravan
Moto Perpetuo (featuring Love For Sale)
O'Malley's Break
Closer to the Heart
2112 Overture/The Temple of Syrinx
Far Cry

Encore:
La Villa Strangiato
Working Man

Bonus Material:
Outtakes from "History of Rush, Episode 2 & 17"
"Tom Sawyer" featuring the cast of "History of Rush, Episode 17"
"Need Some Love" Live from Laura Secord Secondary School
"Anthem" Live from Passaic New Jersey
---
CLOCKWORK ANGELS TOUR
Set One:
Subdivisions
The Big Money
Force Ten
Grand Designs
The Body Electric
Territories
The Analog Kid
Bravado
Where's My Thing?/Here It Is! (drum solo)
Far Cry

Set Two:
Caravan*
Clockwork Angels*
The Anarchist*
Carnies*
The Wreckers*
Headlong Flight*/Drumbastica (drum solo)
Peke's Repose (guitar solo)/Halo Effect*
Seven Cities of Gold*
Wish Them Well*
The Garden*
Dreamline*
The Percussor (I)
Binary Love Theme (II)
Steambanger's Ball (drum solo)
Red Sector A*
YYZ*
The Spirit of Radio

Encore:
Tom Sawyer
2112

Bonus:
Limelight (soundcheck recording)
Middletown Dreams
The Pass
Manhattan Project*

*With the Clockwork Angels String Ensemble

Special Features:
Can't Stop Thinking Big (tour documentary)
Behind the Scenes (featuring Jay Baruchel)
Outtakes
Interview with Dwush
Family Goy
Family Sawyer
The Watchmaker (intermission tour film)
Office of the Watchmaker (closing tour film)
---
R40 COMPLETIST
Interviews:
1979 Ivor Wynne Stadium, Hamilton
1981 Le Studio, Quebec
1990 Artist of the Decade
1994 Juno Hall of Fame Induction
2002 Vapor Trails Tour

The Anthem Vault:
Anthem (Castle Session, 1975)
Fly By Night (Castle Session, 1975)
Finding My Way (mpeg1 from Rock Concert)
In The Mood (mpeg1 from Rock Concert)
Circumstances
La Villa Strangiato
A Farewell to Kings
Xanadu
The Spirit of Radio (Soundcheck, 1979 Ivor Wynne Stadium)
Freewill (Toronto Rocks, 2003)
Closer to the Heart (Canada For Asia, 2005)

Molson Amphitheatre, June 30, 1997 Toronto:
Animate
Resist
Natural Science
---