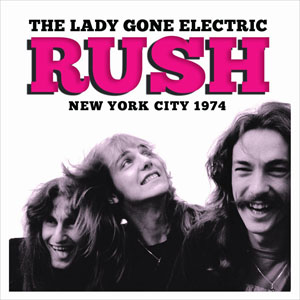 There are 18 active users currently online.
---
---
The Lady Gone Electric
New York City 1974


Released: April 13th, 2015



Highest Billboard Chart Position: N/A
---

|Comments| -- |Tracks| --- |Liner Notes| --- |Album Images| --- |Tour Dates| --- |Purchase|

---
Liner Notes

Recorded at the Electric Ladyland Studios in New York City, in December 1974 in preparation for their first US tour, this sublime Rush performance was given in front of an audience of 8-12 people in the small studio, and thus provides a fine example of this remarkable band's early live sound. This was also the earliest recording made with Neil Peart on drums, Peart having replaced their former skins-man John Rutsy, a few months before this show.

They perform material from their first album and new songs from the soon to be released 'Fly by Night' LP. The show was undertaken to provide a live broadcast for FM Radio, and was transmitted across the airwaves prior to the release of 'Fly by Night'. Neil had only been with the band for a few months at this point, but the playing is tight and precise.

The FBN songs are still coming together, so some, notably "Best I Can", contain some alternate lyrics. The structure of "Fly by Night" is different, with the guitar solo coming after the vocal bridge and a completely different ending. We get a rare treat in "Working Man", when Alex delivers a guitar solo outside of the normal structure of the song. "Bad Boy" is introduced as a Beatles song, although it was originally written and performed by Larry Williams. It's amusing to hear the polite clapping of what sounds like about five or ten folks in the studio. Geddy's soft-spoken comments in between songs are a sharp contrast to the very hard-edged performance. Apparently, several mics were set up around the studio, with only a very basic soundboard feed. The result is a very well-mixed sound - so much so, in places it sounds as though it's lifted direct from the first album.

The three bonus cuts included are from the group's first US television performance on the legendary Don Kirshner Rock Show programme in October '74.
---
Broadcaster PLAYLIST MAY 1974
RUSH ... RUSH (Moon MN-100)

The music jumping out of the grooves on this set is hard, fast and energetic as dished up by Geddy Lee (lead vocals & bass); Alex Lifeson (guitars and vocals); and John Rutsey (drums & vocals). Together, these three fellows are Rush, a band originally hailing from a suburb in northern Toronto, and just recently beginning to make its impressions on the recorded music scene with a first album offering on the independent Moon label (distributed in Canada by London Records). The album is arranged and produced by Rush at Eastern and Toronto Sound Studios with final mixing being handled by Terry Brown. All selections on the set are written by Lee and Lifeson except for IN THE MOOD, picked to be released as a single, which is wholly written by Geddy Lee. Other picks are FINDING MY WAY and BEFORE AND AFTER. Note to programmers - lots of good rocking here.
---
All tracks from a live radio broadcast at Electric Ladyland Studios, New York, 5th December 1974, except 9 - 12 from Don Kirshner's Rock Concert 16th October 1974.

Writing credits and liner notes inside booklet.

No part of the package or artwork may be reproduced without the written permission of Sonic Boom.

© 2015 Sonic Boom.

TOTAL RUNNING TIME: 62.33 MINUTES
---
Track Listing



1. FINDING MY WAY (5:19)
2. BEST I CAN (3:11)
3. IN THE MOOD (3:42)
4. ANTHEM (4:36)
5. NEED SOME LOVE (3:30)
6. FLY BY NIGHT (3:20)
7. HERE AGAIN (9:17)
8. BAD BOY(6:36)
9. WORKING MAN (12:22)
10. BEST I CAN (2:58)
11 IN THE MOOD (3:20)
12. FINDING MY WAY (4:34)
---
---