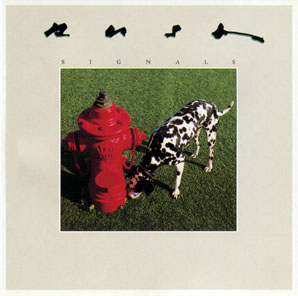 There are 18 active users currently online.
---
---
SIGNALS
Album Review
---
All reviews are (c) Patuto Enterprises and originally appeared at Epinions.Com
---



It's a New World Rush



Pros: More catchy and powerful tunes with an 80's flare...

Cons: Heavy use of synths overpower Alex's guitar work in some cases.

The Bottom Line: A great mainstream effort by Rush that opened the door to a whole new generation of fans...
---

On the heals of their wildly successful 'Exit...Stage Left' double-live album which captured the magic of their 'Moving Pictures' album, Rush set the stage for Phase III of their career. And unlike other artists that would either rest on their laurels or simply repeat them, Rush once again set a course for uncharted territories for the exploration of their musical tastes, direction and desires. Signals is the first of many albums that would re-write the sound of Rush - making them more of a mainstream attraction, but never dissolving the roots that they had established over the last decade.

1. Subdivisions
Signals opens up with one of Rush's most popular tunes, even through today. Subdivisions became the high school loner's war cry with the fitting lyric In the high school halls. In the shopping malls. Conform or be cast out. (Subdivisions) In the basement bars. In the backs of cars. Be cool or be cast out. With its heavy synth sound, something becoming more common in Rush songs, especially on this album, and its strong percussions, Subdivisions set the stage for the 80's sound of Rush.

2. The Analog Kid
Up next is a tune that was under appreciated when Signals first came out, but it has grown in popularity over the years - even to the point of Rush playing it live in their most recent tours. The Analog Kid tells the story of a young boy dreaming of the future - or more importantly his future, and what's in store for him when he moves on from his home town. But as the lyric "When I leave I don't know what I'm hoping to find. And when I leave I don't know what I'm leaving behind..." indicates, there's always trepidation when moving on with one's life because you don't know where you're headed, and sometimes, you don't know where you've been. AK highlights some of Alex Lifeson's warp-speed guitar playing coupled with more synth performances by Geddy Lee. And in this case, the two work very well together without overpowering one another.

3. Chemistry
The third track on Signals is a jazzy tune called Chemistry - somewhat of a departure for Rush, but similar in style to their Vital Signs track on 'Moving Pictures'. With quick one line lyrics throughout following along more synth-strong music, Chemistry is one of those Rush songs that may take a listen or two to appreciate.

4. Digital Man
Where we had an Analog Kid earlier in the album, we now add on a Digital Man for the fourth track. Another "love it or hate it" track, Digital Man is a look into the forthcoming technological revolution and what impacts it will have on the human man. Considering this album came out in 1982, Neil Peart shows incredible insights here. Add psychic to his resume.

5. The Weapon (Part II of "Fear")
This song is the reverse-continuation of the Fear Trilogy which began with Witch Hunt on the previous studio album 'Moving Pictures'. The Weapon (Part II of "Fear") has a great beginning with guitars opening up the track and synths and percussions filling in as the beat grows louder and quicker. Classic Rush without a doubt. And classic Neil Peart with his thought-provoking lyrics about the dangers of government and country rulerships using weapons as a means of control. Strong stuff here.

6. New World Man
This little ditty has the distinction of being the highest ranked Rush song of all time - breaking the Top 10 on Billboard's Top 100 countdown list. Interesting to note is the fact that Rush quickly threw this song together so as to reach a track total of 8 for Signals. Talk about working under pressure :) New World Man continues to get strong air play today from its catchy and bass-heavy tune. Rush was showing they could become mainstream but also develop their own sound. New World Man does just that in spades. It's unmistakably Rush and unmistakably a great song in every way.

7. Losing It
This is an extremely powerful and ballad-like song that incorporates strings and synths to establish a very heartening mood. Losing It is about the pain of having to relive past glories and accomplishments. Pain because through old age, those accomplishments will never happen again. But as sad and powerful as the images of past successes are revealed here through Peart's magical lyrics, stronger still is the final verse:

"Some are born to move the world,
to live their fantasies.
But most of us just dream about
the things we'd like to be.

Sadder still to watch it die,
than never to have known it.
For you, the blind who once could see;
The bell tolls for thee."

Strong and classic Neil Peart. Perhaps even a glimpse into his own devastating future.

8. Countdown
Signals ends with yet-another synth heavy song in Countdown - a great song that details the launch of the space shuttle, and how man has captured its dream of exploration. This magic day when super-science mingles with the bright stuff of dreams. Great time changes, climaxing lyrics and music and beautifully used sound effects from NASA all make Countdown a rip-roaring fun song that's hard not to blast as loud as an actual Shuttle taking off.

As mentioned earlier, Signals marked a new direction for Rush. Clearly, synthesizers were playing a heavy role in their musical direction and many have commented that they were over used in this effort. To each they're own, of course, but the synths to tend to over power Alex's guitars in some of the songs - something that was slightly remedied in the re-mastered release. And while the songs are all still exceptionally well done, the sounds are somewhat muddled from time to time. Again, perhaps a result of the heavy use of the synthesizer.

Signals, while opening the door to 80's style music for Rush, also closed the door on an era. This marked the last time producer Terry Brown would work with Rush on one of their studio releases. The word came down that Rush wanted to pursue other musical styles and directions so the two parted ways - but apparently on very friendly terms.

80's sound with Rush style. That's what you'll get with Signals - another great addition to the growing Rush library.

Enjoy and as always - thanks for reading!


---
|Back to Signals Album Info|
---
|Read More Reviews on Signals|
---