There are 12 active users currently online.
---
---
From Rush with Love

Rolling Stone Magazine

Issue #1238, July 2nd, 2015

by Brian Hiatt
---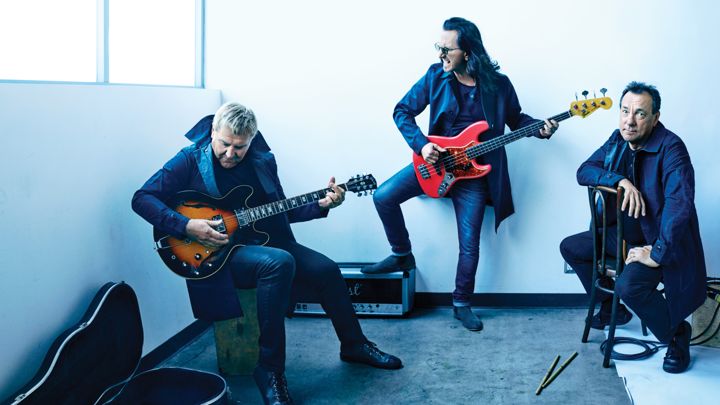 Click Any Image to Enlarge
---
Is this the end of the road for the geek-rock gods?
---
Neil Peart drives like he drums. On a bright mid-April afternoon in Los Angeles, fresh from a rehearsal with his band, Rush, for what might be their last big tour, he powers his pristine, silver, Goldfinger-style 1964 Aston Martin DB5 onto an exit ramp off the 405 at highway speed, slowing not at all — speeding up, maybe — into a sharp, perilous curve. Call it the way of the Peart: daunting technical mastery paired with a penchant for the gloriously excessive.
He plays an outsize role in Rush, writing the lyrics, serving as the band's designated conscience, taking solos so lengthy and structured that they get their own song titles. To a certain breed of rock musician, the drummer is a Clapton-in-'66-level god: Dave Grohl wept after meeting him.
Peart is also an amateur auto racer, and something of an off-ramp connoisseur. "Racetracks are designed to make it as difficult as possible to get around that corner fast," he says over the Aston Martin's growl, hands tight on the wheel as he whips through the turn. "And some ramps, by necessity, are that way too. I've been picking out a few favorites — the ramp to Wilshire on the 405 is awesome."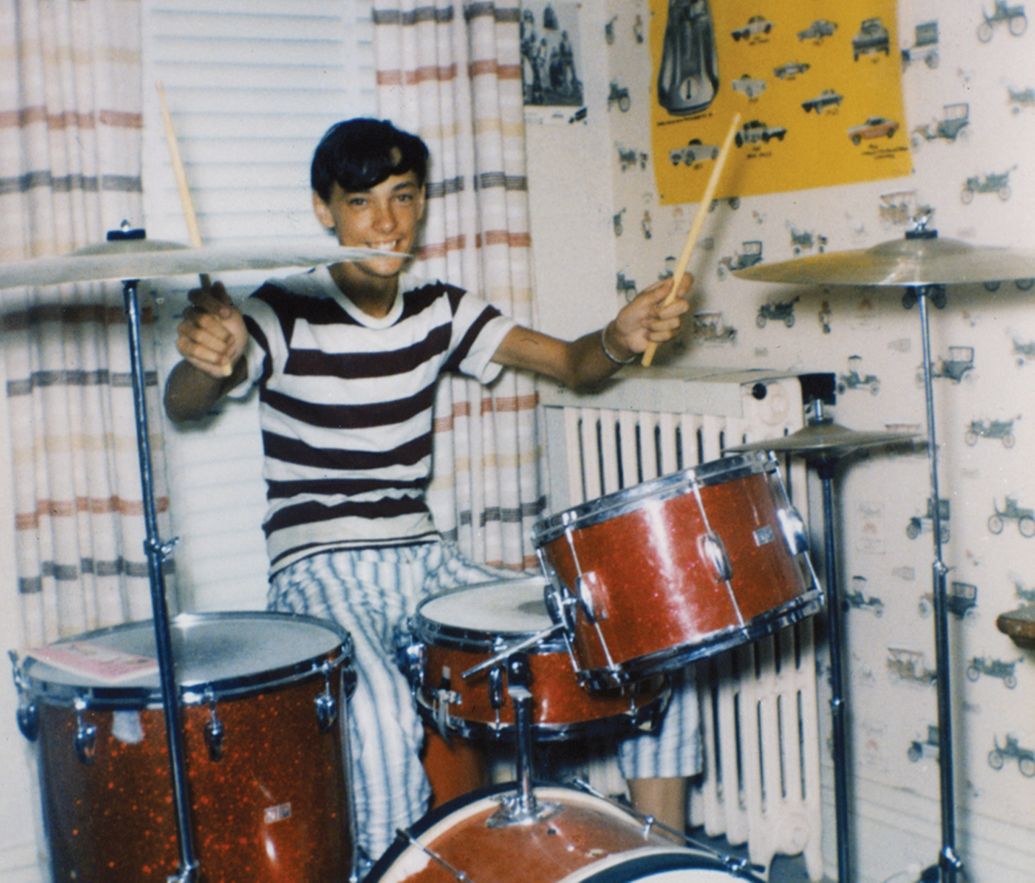 At 62, Peart resembles an off-brand Tom Hanks, with a prominent, florid nose and alert brown eyes. He is tall, dressed in a black T-shirt, black khakis and Prada sneakers; he has ropy, muscled forearms and an athlete's physical ease, despite growing up as a self-described weakling. He is a good deal more personable than you'd expect of a guy who wrote the lyrics to rock's premier anti-schmoozing anthem, "Limelight" ("I can't pretend a stranger is a long-awaited friend"), delivering crisp, all-but-indented paragraphs in a rich baritone. A rigorous autodidact and a gifted, near-graphomaniacal writer, he has penned so many books, essays and lyrics that he can't help deploying conversational footnotes: "When I wrote about that, I said . . . "
Peart's fans consider him rock's greatest living drummer: He's won prizes in Modern Drummer's annual readers' poll 38 times. And even those allergic to the spectacle of inhuman chops unleashed upon gleaming, rotating, 20-piece-plus drum kits might consider Peart's talent for rhythmic composition and drama: Rush fans know that his hypersyncopated beats and daredevil fills are pop hooks in their own right. "Neil is the most air-drummed-to drummer of all time," says former Police drummer Stewart Copeland, Peart's friend, musical influence and occasional jam partner, who points to a core sense of groove beneath the flashiness: "Neil pushes that band, which has a lot of musicality, a lot of ideas crammed into every eight bars — but he keeps the throb, which is the important thing. And he can do that while doing all kinds of cool shit."
Neil Peart likes to ask himself a couple of key questions. One is "What is the most excellent thing I can do today?" The answers lead him to travel between Rush's shows on a BMW motorcycle instead of a plane or bus (creating scheduling nightmares for the band's management), and to embark upon extracurricular bicycle trips through West Africa and China and Europe. He aims to fill every minute of his life with as much much-ness as possible, which may also help explain all those 32nd notes.
The other query, posed in the face of any moral dilemma, is "What would my 16-year-old self do?" Teenage Neil was a brainy misfit in a middle-class suburb 70 miles from Toronto who permed his hair, who took to wearing a cape and purple boots on the city bus, who scrawled "God is dead" on his bedroom wall, who got in trouble for pounding out beats on his desk during class. His teacher's idea of punishment was to insist that he bang on his desk nonstop for an hour's worth of detention, time he happily spent re-creating Keith Moon's parts from Tommy. For years, Peart wore a piece of one of Moon's shattered cymbals around his neck, retrieved froum a Toronto stage after a Who concert, and his current drum kit includes a sample trigger bearing the Who's old bull's-eye logo.
In their early years, opening for practically every major band of the 1970s, Peart and his bandmates — singer-bassist Geddy Lee and guitarist Alex Lifeson — were disturbed by what the drummer would later describe as the "sound of salesmen." "We would hear them give the same rap to the audience every night," says Peart. " 'This is the greatest rock city in the world, man!' That was creepy. I despise the cynical dishonesty." They did get along with the guys in Kiss. "We would get high with Ace Frehley in his hotel room and make him laugh," Lee recalls, "and they were a really good influence on us in terms of learning to put on a show."
They were taken aback, however, by Gene Simmons' and Paul Stanley's unabashed view of Kiss as a product. "I don't want to knock them," says Peart. "But once I was in a little restaurant in Kansas, and a guy with Kiss Army tattoos kept playing Kiss songs on the jukebox. He believed in a marketing campaign, swallowed it as religion. He was like a convert to Scientology."
Ultimately, Peart wants the freaky, purist kid he once was to be proud of him. "It's about being your own hero," he says. "I set out to never betray the values that 16-year-old had, to never sell out, to never bow to the man. A compromise is what I can never accept."
Rush have spent 41 years mastering the art of no compromise. They've superserved their superfans while pretty much ignoring everyone else, and it's all worked out pretty well. There are weirder bands and there are bigger bands, but none quite so weird and quite so big. In each date of their current arena tour, Rush run through their catalog in reverse order, so nearly all of the show's second half is devoted to their Seventies work, showcasing the band in its purest, oddest, arguably most awesome form.
Back then, they had songs so epic that they actually continued from one album to the next, including, memorably, "Cygnus X-1: Book One: The Voyage." They had Lee nailing fierce bass-guitar parts while shrieking like he had an overdrive pedal in his throat, hitting notes that made Robert Plant sound like Leonard Cohen. They had Peart pairing polyrhythms with polysyllables, and Lifeson summoning proto-thrash riffs, classical-gas acoustic bits, ringing chords and increasingly outré leads. They were brasher and louder than their stately prog forebears, Yes and Genesis: Rush sometimes sounded like they had formed their entire style around that one heavy bit in the latter act's "Watcher of the Skies." "We were young," says Peart, quoting himself, inevitably, "and foolish and brave and fun."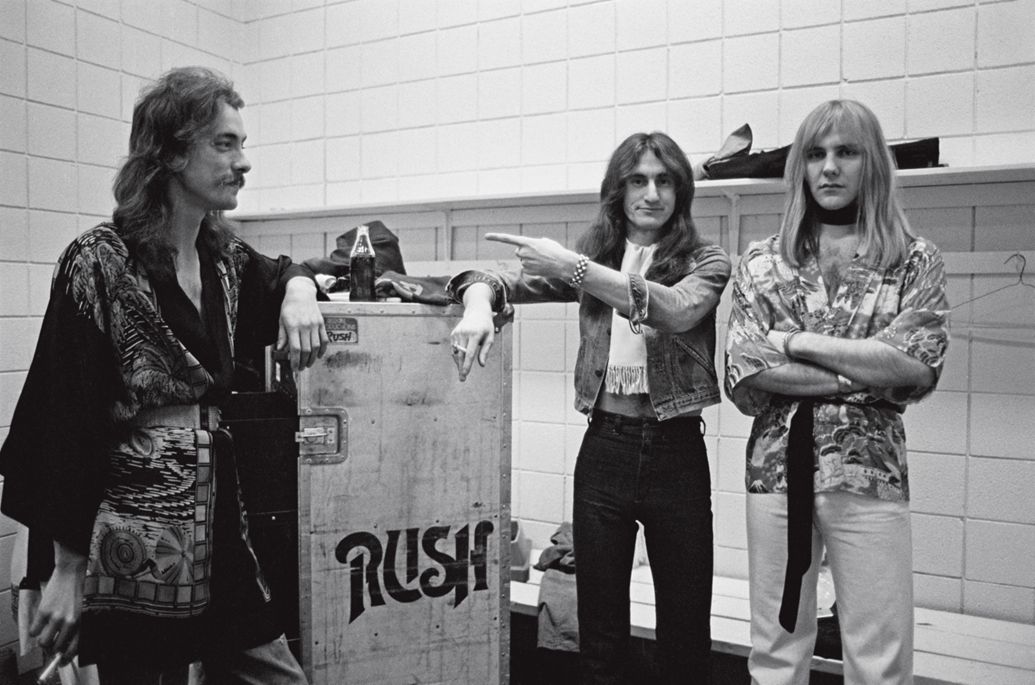 As the Eighties approached, Rush discovered concision and synthesizers, recording taut songs that jumped straight into the classic-rock canon: "The Spirit of Radio," "Freewill," "Tom Sawyer," "Limelight." "When punk and New Wave came," says Peart, "we were young enough to gently incorporate it into our music, rather than getting reactionary about it — like other musicians who I heard saying, 'What are we supposed to do now, forget how to play?' We were fans enough to go, 'Oh, we want that too.' And by [1981's] Moving Pictures, we nailed it, learning how to be seamlessly complex and to compact a large arrangement into a concise statement."
Even as their hair got shorter and skinny ties appeared, Rush remained militant about power-trio purity: Lee multitasked, holding down bass and vocals while also using every available limb to play synthesizers and trigger backing parts — a feat that pushed virtuosity into the realm of circus act. "Every rehearsal, I was screaming, 'I can't do it!' " says Lee. "But it just felt wrong to have another dude onstage with us. We talked about it all the time — we still talk about it! But it's a no-go zone, can't do it." They had their rules, and they kept to them — Peart wouldn't even play the same drum fill more than once in a song.
Rush have had the same lineup for four decades, since Peart stepped in for their original drummer, John Rutsey — a Bad Company fan who was averse to both odd time signatures and U.S. tours — just after the recording of their first album. They've scarcely had an argument the whole time. "We're never mean to each other," says Lee, "so if we disagree, we pout. That's sort of the Canadian way. But we did used to love punching Alex when he said something stupid."
"If any of us were the slightest bit less stable," says Peart, "the slightest bit less disciplined or less humorous or more mean, or in any way different, it wouldn't have worked. So there's a miracle there."
Lately, Rush have been moving ever closer to pop culture's center, with a hit documentary, Rush: Beyond the Lighted Stage, and a 2013 induction into the Rock and Roll Hall of Fame. But the end is in sight — sort of, maybe. Rush let their manager, Ray Danniels, include a press-release line noting that their current run of dates will "most likely be their last major tour of this magnitude" — a very Canadian version of the splashy farewell outing that promoters wanted. "It's most likely our last tour," says Lee. "I can't say for sure. But it doesn't mean we don't want to work together still, it doesn't mean we won't do another creative project, and I've got ideas for shows we could do that don't involve a tour."
"I don't think we're having much difficulty thinking about it as possibly the last," adds Lifeson, 61, who has health issues and wants to spend time with his grandkids.
Peart has disliked touring since their first month on the road, in 1974, threatening to become a studio-only player as early as 1989. But the drummer's concerns have grown more acute. For one, he's pained by long separations from his five-year-old daughter, Olivia. They're close enough for him to know the name of every character on her favorite cartoon, Bubble Guppies. "I realized on the last tour that it's good for her when I'm there, and it's really bad for her when I'm not," says Peart, who moved from his native Canada to L.A. around the turn of the century. Peart and his wife of 15 years, Carrie Nuttall, don't plan on informing Olivia about the tour until the week before it begins. Peart is worried about how she'll react.
As Peart gets deeper into his sixties, he's also questioned his continued physical ability to play Rush shows, a task he's compared to "running a marathon while solving equations." But so far, he's surprising himself. "Everything hurts, but that's fine," he says. "I'm just gratified that I can still do it – at not only the level I would wish to but still getting better."
Earlier that morning, the three members of Rush arrive at Mates Studios, a squat, U-shaped, warehouselike structure in unglamorous Van Nuys that's been a go-to arena-band rehearsal spot since the late Eighties. In a brick-walled room, a Guitar Center's worth of gear awaits them, along with a big black rug bearing the logo of their R40 Tour. Lee is using 26 different vintage basses on the tour: "the history of the bass on parade." Peart is playing two different drum kits, and for the rehearsals, they're right next to each other. One is his gold-plated current setup, with laser-etched logos from late-era Rush albums; the other, for the old songs, is a precise re-creation of his circa-1978 chrome kit, complete with the naked dude from the 2112 back cover on the kick drum.
Peart, who is wearing his usual onstage hat, a rounded African-style model, finds the old gear challenging. He's a fluid and relaxed drummer now, but was a clenched, scowling presence behind the cymbals in the old days. "This is all thought out, everything comfortable," he says, gesturing to his new kit. "I can play without looking. The old kit, everything's stupid — like I was at that time. 'Ride cymbal over there? That makes sense!' "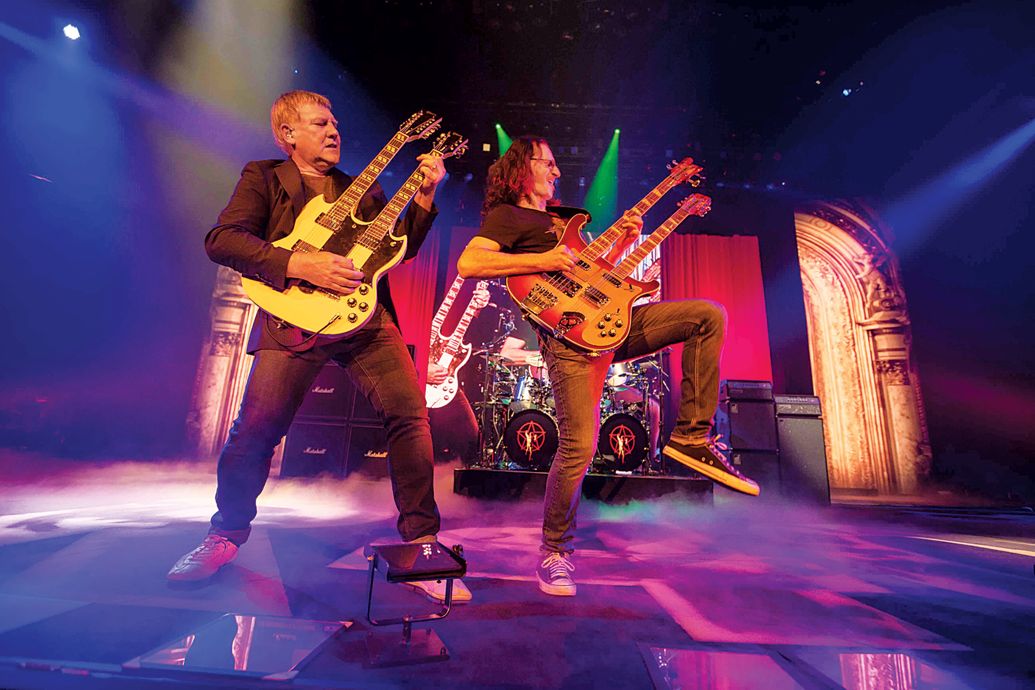 Lee shows off his bass-pedal rig, which is really a sort of foot-synth, laid out like piano keys. "Sometimes it's a keyboard," he says. "Sometimes it's a sound-effects machine. Like I don't have enough to do. Dance, monkey boy, dance!"
The opening date of the tour, in Tulsa, Oklahoma, is only three weeks away. "We're still not very good," says Lifeson. "But we're practicing!"
"We're practicing our mistakes," adds Lee. They used to tease Peart about his insistence on doing a month of solo preparation before group practices begin, telling him he's the only man on Earth who "rehearses to rehearse" — now they all do the same. Lifeson, who lives within walking distance of Lee in Toronto, has the simplest method: He blasts Rush songs in his home studio and plays along.
Today, Rush are running through the first set, which begins with songs from their most recent album, Clockwork Angels. It's an adventurous concept LP, complete with a full-circle return to sci-fi motifs that Peart had long abandoned. Their producer, Nick Raskulinecz, grew up on the band, and pushed them to re-embrace their Rush-iest aspects, urging Lee to use his highest vocal register, encouraging Peart to throw a drum solo right in the middle of a twisty track called "Headlong Flight."
Playing that song now, Peart is hitting his snare drum so hard that the skin beneath his jaw vibrates. Lee, in dark jeans and a faded T-shirt, plays serpentine lines on a green Fender bass with no apparent effort; Lifeson, in looser, lighter jeans and a gray sweat-wicking tee, is in his own world at stage right, nailing a tricky chord barrage. By the end, Peart is red-faced and wiping himself down with a towel.
The band has a harder time with the heavy instrumental "The Main Monkey Business," bungling the ending. "Close," Lee says.
"Two out of three got it right," says Peart. ("You can't have that in a three-piece band," he notes later.)
"I came in all right and then it got mixed up," Lifeson laments. "There's like a stupid fucking beat put in."
They eat lunch in a break room, where Lifeson, who's attempting a low-carb regimen ("I've always been partial to the protein thing — except when I eat carbohydrates"), opts for a steak. "You're going to sleep through the rest of the set," says Peart, who picks a lighter entree, but then inhales a bowl of ice cream: Drumming burns a lot of calories.
On the yellowish-orange wall are striking portraits of Jeff Beck, Alice Cooper, Prince and Rush's old tourmates Kiss, along with a reproduction of John Entwistle's cover art for The Who by Numbers. As the meal ends, a roadie drops off both dental floss and little gum-cleaning sticks, which Lee and Lifeson put to immediate and vigorous use — the guys in those photos may have a bit more traditional rock & roll mystique, but when it comes to oral hygiene, Rush wins.
After lunch, the set list keeps moving back in time, hitting one of Rush's best songs, 1982's "Subdivisions." The lament of a teenager trapped in the suburbs, it was a lyrical breakthrough for Peart, trading fantasy and philosophizing for unadorned emotion. "Nowhere is the dreamer or the misfit so alone," Lee intones, over ominous marching synths and a beat that fights against itself, mirroring the narrator's struggle. "Conform or be cast out!"
Long ago, I was a suburban teenage Rush fan, Roll the Bones tour tee and all. It is an intense experience, all these years later, to have the band five feet in front of me, playing that particular song straight into my earphones. "Growing up, it all seems so one-sided," Lee sings, stabbing at a keyboard, his bass hanging at his waist. "Opinions all provided/The future pre-decided." As discreetly as possible, I wipe my eyes — Grohl, for one, would understand.
"A lot of the early fantasy stuff was just for fun," Peart says later. "Because I didn't believe yet that I could put something real into a song. 'Subdivisions' happened to be an anthem for a lot of people who grew up under those circumstances, and from then on, I realized what I most wanted to put in a song was human experience."
This next song features Minnie Mouse," Geddy Lee informs an empty arena in Tulsa, Oklahoma, adopting a squeaky falsetto. It's a dress rehearsal a couple of weeks later, and Rush just finished the surging 1977 song suite "Xanadu," with both Lee and Lifeson wielding double-necks (Lifeson named one of his "Heavy" and the other one "Bastard"), and Lee attempting high notes that seemed both easy and in excellent taste when he was 23. "You have to get over yourself and just say, 'Well, OK, I'll just get into the period,' " Lee says offstage. "I didn't really know what I was doing back then. I was just kind of screaming. It took me, like, 10 years to learn that there are some keys that are better to sing in."
For all his self-deprecation, Lee is an unexpectedly formidable presence — trim, youthful-looking, unflappably self-possessed, with a hint of steel lurking beneath his affability. "He can be intimidating because he's so smart, and such a man of the world," says Raskulinecz, producer on Rush's past two albums. "In my experience, Geddy is the leader of the band." With his shoulder-length hair, distinctive nose and John Lennon glasses, he's certainly the most recognizable member — even with a cap pulled low, fans interrupt him a good 20 times as we try to take in a minor-league baseball game in Tulsa. ("My features are kind of profound in a cartoonish way," says Lee, "and I haven't changed much physically. Whereas as Alex has aged, he's gotten more of a squarish head. He looks more like a normal person. I don't look like a normal person.")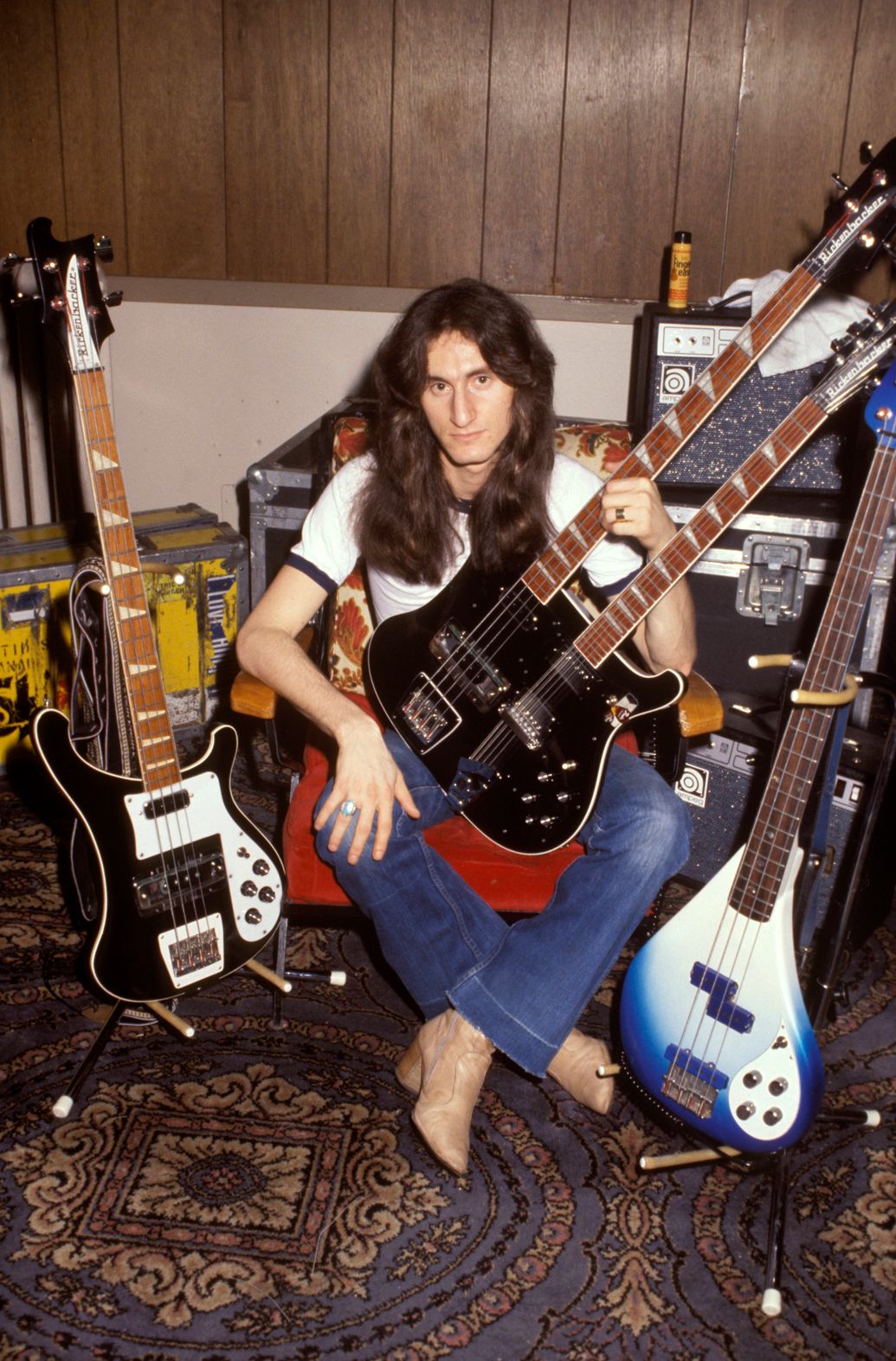 Lee would have no trouble keeping busy without Rush — he and his wife, Nancy Young, have homes in London and Toronto, and spend a lot of time traveling. He is a serious collector of many things, including art, wine and baseballs. But he is a lot less eager to retire from the road than his bandmates. "I'm definitely the most gung-ho about working," he says. "With me, mixing is a nightmare — the guys have to rip the fucking thing out of my hands because I keep trying to make it perfect. I love putting shows together, I love playing for people, so I don't have any doubts in that area. The other guys do have doubts, and they have other demands on their lives that I don't have."
"I look at Ged and I see a man who's 10 years younger than his birth certificate says," says manager Danniels. "And the other two guys are what their birth certificate says."
Lee takes note of slights against his band, though his score-settling is gentle. Aerosmith were notably ungenerous to Rush in their opening-act days, denying them soundchecks and lowering their onstage volume. "Most bands were afraid of Rush," says longtime lighting director Howard Ungerleider. "They were being outplayed, and they hated it." During Aerosmith's early-Eighties struggles, the Joe Perry Project opened for an ascendant Rush, and as Ungerleider recalls, Lee told his crew to treat Perry generously, to let him soundcheck as much as he wanted. As the story goes, Lee then stopped by Perry's dressing room to ask if he was being treated well. When Perry said yes, Lee replied, "Good. Because I would never want anyone to feel the way we did when we opened for you." (Lee doesn't recall this precise exchange but says Perry apologized.)
(After this story went to print, Joe Perry sent a response: "Frankly, I don't remember playing with Rush. . .The competition between bands was stiff, the competition between crews even stiffer, so I don't doubt Geddy's word. I remember when we were opening for the English bands we would always get the short end of the stick, so I told our crew to take care of our openers. I want to thank them for treating the Project so good and actually taking the time to ask if everything was OK. I hope I had the presence of mind back then to apologize. I want to congratulate Rush on their longevity, because like us they are still around to tell the tales.")
It was Lee who pushed hardest for Rush's Eighties transformation, after hitting prog overload with 1978's Hemispheres. Among other problems, they wrote and recorded the backing music for the entire album without checking whether Lee could sing over it. "We wrote it in such a fucked-up key," he says, his frustration still fresh 37 years later. "It was just the worst two weeks of my life recording vocals."
After that album — which kicked off with the 18-minute-long second part of "Cygnus," with Lee singing stuff like "As a disembodied spirit/I am dead and yet unborn" — the frontman told Peart and Lifeson that Rush needed to start over. "I said, 'Look, in a way we are becoming formulaic, just like all these bands that we can't stand,' " he says. "We do the overture thing, and then we do this theme and that theme. So we said, 'What if we take six minutes and try to do something that's more tuneful but is still fucked up, with really complicated musical moments that have a different energy?' That's when we started 'Spirit of Radio' and those kinds of songs."
Lee has been friends with Alex Lifeson since they were nerdy teens in the Sixties; the guitarist set Lee up with Young, whom he married in 1976. Clearly, Lee has no issues with commitment, though touring strained his relationship with his family until Rush cut out European dates in the Eighties. "The worst thing you can do in marriage is to look at your partner as your wife or your husband," says Lee. "We decided to treat each other as if we were still boyfriend and girlfriend. That subtle bit of semantics helps a lot, I think."
Lee, born Gary Lee Weinrib, is the child of Holocaust survivors, and he traces some of his drive to his parents' legacy. They met in a Polish work camp around 1941, and had fallen in love by the time they were both imprisoned in Auschwitz. "They were, like, 13 years old," Lee says over a late-night beer in a sleepy Tulsa bar, "so it was kind of surreal preteen shit. He would bribe guards to bring shoes to my mom." As the war went on, his mother was transferred to Bergen-Belsen, and his father to Dachau.
When the Allies liberated the camps, his father set out in search of his mom. He found her at Bergen-Belsen, which had become a displaced-persons camp. They married there, and immigrated to Canada. But years of forced labor had damaged Lee's father's heart, and he died at age 45, when Lee was 12. Lee's mother had to go to work, leaving her three kids in the care of their overwhelmed, elderly grandmother. "Had my dad survived," says Lee, "I might not be sitting here talking to you — because he was a tough guy, and if he didn't want me to do something, I may not have done it. It was a terrible blow that I lost him, but the course of my life changed because my mother couldn't control us."
Lee soon turned his basement into a band-practice space, even though his grandma's kitchen was down there too. "My grandma hated it," recalls Lee's younger brother, Allan Weinrib, a video producer and documentarian who's in charge of Rush's elaborate tour videos. "That was not a good situation at all. One time, it was literally so loud that it rattled glasses off the shelves, which shattered into her chicken soup."
Lee's mother was devastated when her son announced that he was dropping out of high school to play rock & roll. In some ways, he's still making it up to her. "All the shit I put her through," says Lee, "on top of the fact that she just lost her husband. I felt like I had to make sure that it was worth it. Like, why did I do all that to her? I wanted to show her that I was a professional, I was working hard, that I wasn't just a fuckin' lunatic."
The memory of Lee's father is a driving force in its own right. "My dad missed all the fun," he says. "All that work and all that grief, and he got ripped off at an early age. I think that's why I just want to keep playing, and also why I travel so much. While I have my faculties, I want to enjoy everything there is, see as much as I can, just make the most of life."
Back in L.A., Peart stops at a traffic light and spots a sad-eyed, sunburned woman begging by the side of the road. He makes a habit of giving to the homeless ("People ask, 'Why don't they just get a job?' They couldn't get a job"), so he asks me to hand the woman 20 bucks. "I'll pay you right back," he says.
"Thank you so much!" she says. "Now, what kind of car is this?"
Peart arrives at a gated little building a couple of miles from his home that doubles as an office and a garage for his vintage-car collection. In addition to the Aston Martin, he owns a Jaguar E-Type, a Corvette, a Maserati convertible and a Lamborghini Miura, all from the Sixties and all silver, save for the Lambo, which is banana-yellow. "I call them the silver surfers," he says. "Because all they do is drive up and down the coast."
He pours us each a glass of Macallan 12, on the rocks. (When the jazz drummer Peter Erskine, who has given Peart lessons in recent years, asked his student if he applies ice after Rush concerts, Peart replied, "Yeah, I apply ice to my whiskey.") We settle on a couch in the corner by his plain metal desk, where a plaque reads "it is what it is." The nearby coffee table is stacked with copies of Peart's 2014 travelogue, Far and Near, a recent Clockwork Angels comic-book adaptation and a booklet commemorating the adventures of his racing team, Bangers N' Mash. The walls are covered with car posters and photos Peart has taken on his travels.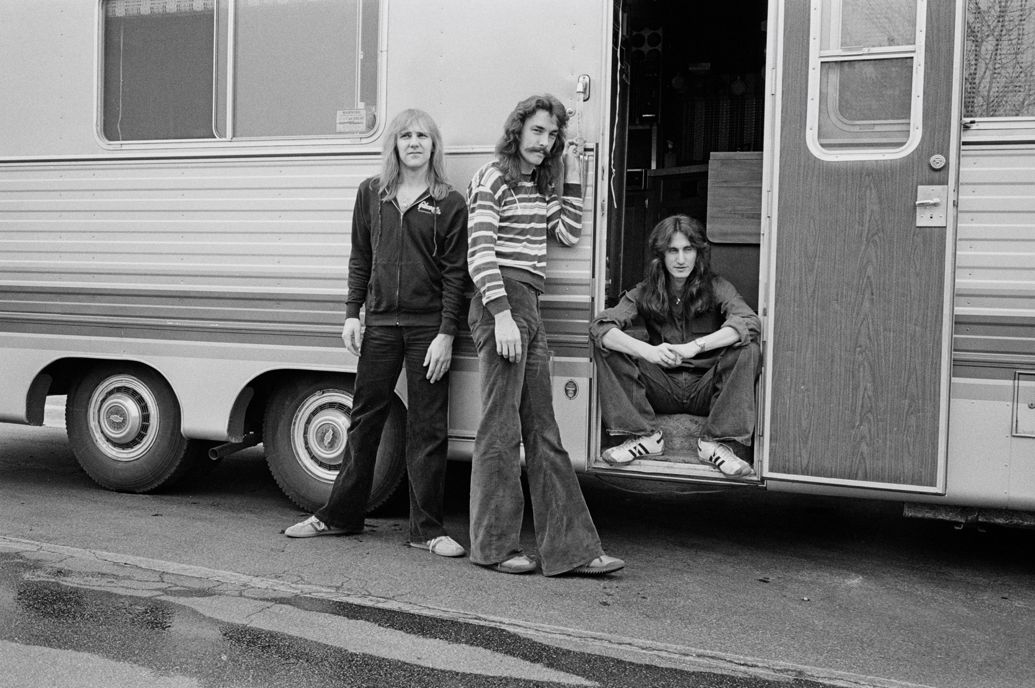 In the Seventies, Peart rankled the rock press with an affinity for libertarian hero Ayn Rand — he cited her "genius" in liner notes, and critics promptly labeled Rush fascists. Rush's breakthrough mini-rock opera, 1976's 2112, is, in part, a riff on Rand's sci-fi novel Anthem. There's nothing wildly controversial about 2112's pro-individuality message: It's hard to imagine anyone siding with the bad guys who want to dictate "the words you read/The songs you sing/The pictures that give pleasure to your eyes." But Rush's earlier musical take on Rand, 1975's unimaginatively titled "Anthem," is more problematic, railing against the kind of generosity that Peart now routinely practices: "Begging hands and bleeding hearts will/Only cry out for more." And "The Trees," an allegorical power ballad about maples dooming a forest by agitating for "equal rights" with lofty oaks, was strident enough to convince a young Rand Paul that he had finally found a right-wing rock band.
Peart outgrew his Ayn Rand phase years ago, and now describes himself as a "bleeding-heart libertarian," citing his trips to Africa as transformative. He claims to stand by the message of "The Trees," but other than that, his bleeding-heart side seems dominant. Peart just became a U.S. citizen, and he is unlikely to vote for Rand Paul, or any Republican. Peart says that it's "very obvious" that Paul "hates women and brown people" — and Rush sent a cease-and-desist order to get Paul to stop quoting "The Trees" in his speeches.
"For a person of my sensibility, you're only left with the Democratic party," says Peart, who also calls George W. Bush "an instrument of evil." "If you're a compassionate person at all. The whole health-care thing — denying mercy to suffering people? What? This is Christian?"
Peart himself is not a Christian, having doubted the existence of God since he was a small child: "I sang the hymns and I read the Bible stories, but I was always perplexed, like, 'Really? Jesus wants you for a sunbeam? For a what?' " In explicitly atheistic songs like "Freewill," he mocked those who "choose a ready guide in some celestial voice." And 1991's "Roll the Bones" posits a chillingly random cosmos, where unlucky children are "born only to suffer": "We go out in the world and take our chances/Fate is just the weight of circumstances. . . . Why are we here?/Because we're here/Roll the bones."
Peart has softened on his unblinkered rationalism in the past couple of decades, especially in the face of unbearable twin tragedies. On August 10th, 1997, Peart's 19-year-old daughter, Selena, died in a single-car accident on the long drive to her university in Toronto. Just five months later, Selena's mother — his common-law wife, Jackie — was diagnosed with terminal cancer, quickly succumbing. "Jackie received the news almost gratefully," Peart wrote in his harrowing memoir of that time, Ghost Rider. Peart told his bandmates to consider him retired, and he embarked on a solitary motorcycle trip across the United States, seeking meaning and solace.
Peart remarried in 2000 and reunited with Rush by 2001. But "Roll the Bones" came to mind more than once in his years of darkness. "God, that song," he says, over dinner at a Brazilian steakhouse near his home – he drove us there in another, far newer, Aston Martin. "What it came to represent. I mean, 'Why does it happen?' When something really shitty happens, of course immediately you look to why. I went all supernatural: 'Somebody must have put a curse on me, I must have done something really horrible, God must be mad at me.' I had to sift through all of that shit again looking for meaning."
But he still prefers the "because it happens" explanation to the one where fate's horrors are all part of some divine plan. "Do yourself a favor," he says. "Don't ever say to me, 'Everything happens for a reason.' 'Cause you'll be dead."
Peart suddenly remembers that he was going to repay me the 20 bucks from earlier. I wave him off, saying I'd rather keep the karma. "Yeah, right, ha ha, karma," he says. "Again, that's something I used to believe in. Every Christmas I had pages of charities that I contributed to, and I would show my daughter who we're giving to and why, as a karma thing." He looks me in the eye. "Until I found out it didn't work.
"Finding generosity again was a huge gift," he adds. "Because I had a time where I was like, 'I hate everybody. Why are you still alive? You should be dead.' And then I said, 'If I'm gonna live, I'm not gonna be that guy.' "
Close to midnight, with Rush's tour kickoff less than 24 hours away, Alex Lifeson is kneeling on a relocated couch pillow by the open window of his hotel room, exhaling pungent weed smoke into the humid Tulsa air. (If you're in Rush and you want to get high, you do so considerately.) He breaks into a violent coughing fit. "Well, that's the thing with this pot these days," he says, passing the joint. "It's so expansive in your lungs." The streets below us are post-apocalyptically empty. "It's busy in town tonight," Lifeson says.
Earlier that night, over a pleasantly boozy dinner, I ask Lifeson if weed has helped him write Rush's music. "Maybe just 80 percent of the time," he says, roaring. "I find that smoking pot can be a really great creative agent." (Lee quit pot in the early Eighties; Peart says, "I like marijuana, but I'm not going to be the poster child for it.") "But when you're in the studio and you're playing, it's sloppy," Lifeson continues. "And cocaine is the worst, for everything. If you want to feel your heart pounding on your mattress at 7:00 in the morning when the birds are chirping, it's perfect. It's awesome. What do kids do now for drugs?"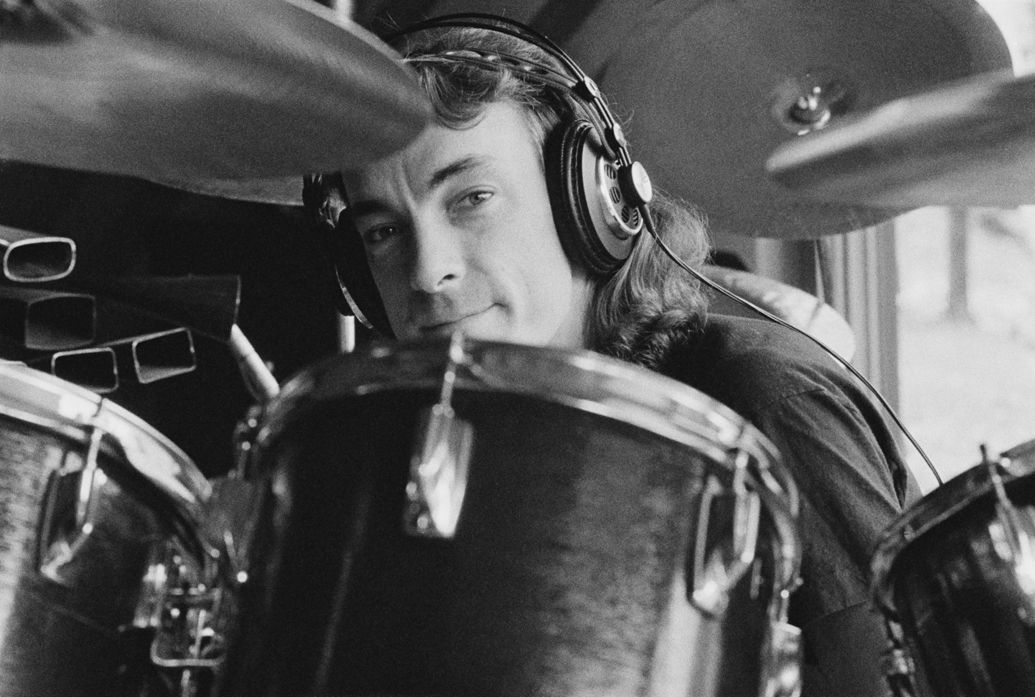 Lifeson was a fan of Ecstasy in the early Nineties, and hadn't heard that it's called Molly now. "I'm glad you told me, just in case," he jokes. "My wife is a totally nondrug person, but for some reason I talked her into it. We cranked the music and we were dancing, and then we talked for hours about deep personal stuff for what seemed like the first time, even though we'd been married for years. We were going through a bit of a difficult time in our relationship, and that opened up a lot of doors."
Like Lee, Lifeson is the son of immigrants, in his case from Yugoslavia. At 16, he got his girlfriend, Charlene, pregnant with their first child — which added some urgency to succeed with the early incarnation of Rush. The couple married five years later, and are still together. "It was certainly a concern," he says. "But I always had a backup in plumbing." He channels his dad's Slavic accent: " 'You could make good money in plumbing!' I used to go with him on jobs. He'd pick me up after a bar gig at 1:30, then I'd go work with him through the night on some plumbing job till 8:00 in the morning. Then he'd take me home and then he'd go to work."
In keeping with his personality — perhaps best demonstrated by a Hall of Fame acceptance speech that consisted entirely of the words "blah blah blah" — Lifeson is a more instinctual and untamed musical animal than his bandmates. "He is nothing if not spontaneous," says Lee. "He's one of the most underrated guitarists — for years, he would never show up in any of the guitar polls. I think 'cause so much of his brilliance is so subtle, like his invention of chords, and his unusual choice of notes."
Lifeson has faced some serious health crises. He receives injections for psoriatic arthritis, and he was hospitalized for anemia from bleeding ulcers a few years ago, receiving blood transfusions. For years, too, he had considerable trouble breathing, feeling like he could never quite fill his lungs. When he underwent recent ulcer surgery, his doctor discovered the problem. "My stomach was behind my heart, pushing against my lung," he says. Everything is now back in place, and he's thrilled at the prospect of playing shows without gasping for air.
In the hotel room, Lifeson picks up his PRS acoustic guitar — his own signature model — and plays for a long while, eyes closed, seamlessly unwinding a series of chiming, pastoral chords and driving, Led Zeppelin III-like riffs. None of it sounds like anything in Rush's catalog. "This is what I do," he says. He did the same last night, returning to his room after a three-hour Rush rehearsal to make more music. "I sat down and played guitar here, drunk and high, for an hour. It's cool, but it's kind of crazy. I'm so lucky, honest to God. I can sit and play for hours for my own enjoyment. It has nothing to do with Rush. It's just a pure exercise of joy."
The next night, Rush finally launch their tour, and all of their meticulous rehearsal is immediately thwarted by their fans' enthusiasm: The crowd is so crazily loud that the bandmates can't hear themselves in their monitors. "All our settings became obsolete," Lee says, cheerfully enough, between sips of champagne in a black-curtained backstage room after the show. As is his habit, Peart zipped off on his motorcycle the moment they finished, but the other guys and the crew stayed behind to celebrate.
"Months of preparation meant nothing," Lifeson adds with a shrug.
But they appreciated the fervor. "There was a guy in the second row during 'Xanadu,' " says Lee. "I thought his head was gonna pop off and roll away. He couldn't fucking contain himself! I thought he was gonna have a heart attack."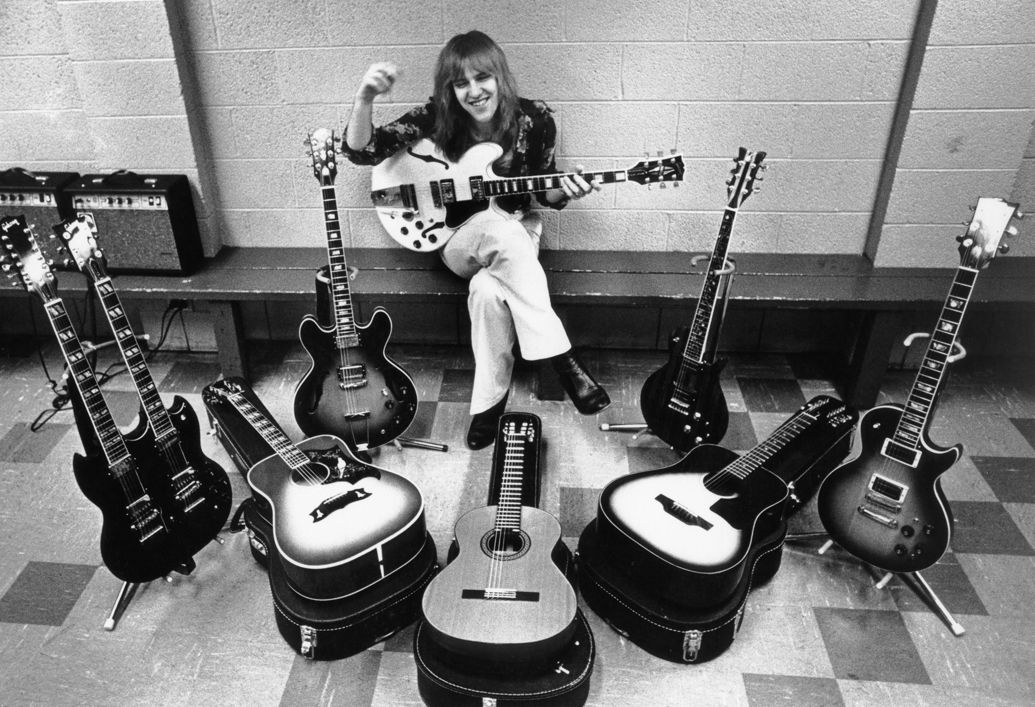 During the show, Lee introduced the Permanent Waves track "Jacob's Ladder" as "a song we've never played live." "Ged is never wrong," says his brother — but in this case he was, flagrantly so: Not only had Rush played the song, as fans instantly pointed out online, it's on a live LP, 1981's Exit . . . Stage Left. Lee can't quite believe he made this flub; perched on a couch, he begins looking up Rush trivia on his phone. "I fucked up," he says, eventually. "I have no memory of ever playing 'Jacob's Ladder.' "
Lifeson takes on the voice of an aggrieved fan: "I fucking hate these guys! They're liars!"
I suggest that Lee continue to tell crowds that they've never played the song, just to drive the fans nuts. He warms to the idea. "I should say, 'People are insisting we played this before — they're full of shit!' "
Lifeson does a Cartman-as-Geddy voice: "I'm Geddy Lee, and if I say we didn't play it before, we didn't play it before!"
They're still enjoying themselves, these old friends, and it suddenly feels unthinkable that this is the end. Peart seemed nearly giddy onstage, throwing in extra stick twirls, breaking into a wide grin during "Xanadu." It turns out his daughter reacted better than he'd imagined to the news of the tour. "I think Neil is feeling more optimistic," says Lee, "because everything seems easier than he expected."
For his part, Lee couldn't bring himself to end the show with a real goodbye. "Thank you for 40 amazing years, we so appreciate it," he yelped, after the band completed its backward journey with its first hit, "Working Man." Just before leaving the lighted stage, Lee peered out from behind his glasses at 19,000 expectant faces and offered a tiny bit of solace: "We hope to see you again sometime."
---
22 Things You Learn Hanging Out With Rush
From Neil Peart's review of 'Whiplash' to a possible 'Clockwork Angels' movie, here's more from the interviews for Rush's first RS cover
For years, Rush had an uneasy relationship with an oft-skeptical rock press. So fans got to know the band members' diverse personalities largely from live shows, tour books, videos and drummer Neil Peart's own prose. But as the band proved this month in their first-ever Rolling Stone cover story, they're great profile subjects in a classic rock & roll mode, more than willing to get candid and irreverent. Here's even more from their cover-story interviews:
There's a reason there are few, if any, unreleased songs from Rush's studio sessions. "That's not how we've ever worked," says Alex Lifeson. "The album is what it is. 'We're going to do eight songs. So let's do those eight songs and concentrate on them and devote all of our time to them.' Why would you write 20 songs and pick the 12 best? Does that mean that the other eight are just bullshit? You were wasting your time!"
The uniquely formal language of some of Neil Peart's lyrics ("one must put up barriers to keep oneself intact") stemmed from his literary influences.
"It was because my reading was so broad and so precocious at the time," he says. "I was reading John Dos Passos. And a big influence on me was John Steinbeck's The Acts of King Arthur and His Noble Knights, which he never finished in his lifetime. It opens with a little preface that said, 'Some people there are. . .' I said, why? Strange turn of phrase. But he had obviously deliberately chosen it. And some of those formal phrasings were because I was very much driven by rhythm of words – and still am. A line will strike me just because of its drumming rhythm."
Peart says all three members of Rush had moments of partying too hard in the Seventies.
"Oh yeah, we all did," says Peart. "And I wrote about that one time and used Winston Churchill's quote. I said, yeah, we went through everything. But Churchill said, 'When you're going through hell, keep going!' We were lucky we had each other to ground us a little bit. If anybody got out of control, they would be sniped at. But we all went through all that together and just kept going and moved beyond it. Drinking and drugs just made me throw up. So that's a pretty good way to keep yourself in line."
Peart had trouble revisiting his Seventies playing on the band's latest tour – because he's a better drummer now.
"Doing stuff I would never do and with a clock that I have transcended now, it was hard. And then after having done it for a few days, when I came back to the modern me, I was playing along and I said, 'Why can't I settle into this? What's wrong with me?' And it was just that transition. I had immersed myself in the 40-year-old version of me and now when I come back to the modern me, it's much more evolved – musically, time sense, touch, technique, emotion – all that stuff is so much better now. I look at the past with a tolerant smile now but it was unformed. Immature is the right word. I know I have a mature, hard earned mastery of the instrument now."
Rush sometimes make up songs about crew members in their soundchecks.
"I provide the lyrics," says Lifeson. "We had one that was great a few tours ago, actually quite a while ago, called 'Sex Boy.' And it was this kind of cheesy, Euro-trash, electronic music."
Lifeson originally planned to give a real speech instead of his infamous "blah blah blah" moment at Rush's Rock and Roll Hall of Fame induction.
"I was going over my written speech on the way over," says Lifeson, "and thinking, 'My brain doesn't remember anything. It's going to be awful. Might as well get up and just go blah blah blah. Oh! Wait a second!' We were sitting at our tables and everyone else was doing their thing, and I told my wife. I didn't tell anybody else, And Quincy Jones got up and gave his speech, which was a very long speech, but sincere. She leaned over to me during that speech and said, "And you're going to go, 'blah blah blah?'" And I said, 'Stop it, you're making me nervous!' When we were walking up on stage, that was really when I committed to it. I thought, "Ok, I'm going to do it. This could be terrible. But I'm going to do it." I think it was OK. I don't know. I'm glad I did it, though. It's the fucking Rock and Roll Hall of Fame! You should be irreverent, rather than thank your lawyer and your accountant and all that bullshit."
Peart is not a fan of the movie Whiplash.
"There is no blood in jazz drumming, and there are no bullies in jazz drumming. My teacher Peter Erskine was saying he feels ungrateful because it's great there's a movie about drummers, but why is it so flawed humanistically and in small technical ways that didn't cost anything? It wouldn't cost anything to have a proper jazz drum set and to show the guy how to use his wrists. And the bloody ice cube jug or whatever? Absurd! There's a Band-Aid on my finger right now – yeah, I bleed. But jazz drumming, no, there is no bleeding."
While Rush were recording 1989's Presto, Peart announced that he was going to quit touring.
"It was still possible then to foster the illusion that you could make a living without touring," says Peart. "So I came to the guys and I said, 'You know what? Let's make records, no touring, I'm done with all that.' But then the more I thought about it, the true test of a musician and especially of a band is performing live. The band we are was made by live performance. We built our own relationship, we built our relationship with fans, we built our tightness, our chops, from touring. So after much wrestling in my own mind I came to the realization that if I'm going to call myself a musician, if I want us to be a vital band, then I'm going to have to perform live."
Lifeson had three main influences as his style started to expand in the mid-Seventies.
"Steve Howe, Steve Hackett – and David Gilmour, although he's more in that bluesy style, but how he uses spaces and creates those moods. Steve Hackett had such a great presence in the early Genesis music. He was up against a lot – strong drummer, strong keyboards, a very amazing vocalist, and he worked in all these tonal shades around the music that happening. Being in a three-piece, there's lots of room. And then you've got to fill it up."
Before they decided on their current tour, Rush considered recording a follow-up to Feedback, their covers album.
"We thought maybe we'd do another Feedback thing of cover tunes," says Peart. "Never got motivated for that. And then when we started talking, it was about playing live."
Peart would love to turn 2012's Clockwork Angels into a movie.
"To me, it would make an amazing movie and I thought it would happen organically – that by now somebody would've been at my door with a big bushel of dollars: 'Let's make this happen!' And it hasn't. But we've got the graphic novel done and we're building the world and the vision of it. It's astonishing to me, really, that somebody hasn't come to me wanting it. I thought, what a great semi-retirement project for the three of us, 'cause Geddy loves cinema, Alex for the soundtrack and me for the story. But I was hoping that's a project that the three of us would undertake at some point."
Geddy Lee sang in school choirs.
"I always was a singer somehow," he says. "I never had a predominant role in the choirs, but I always was a soprano, of course. In bands, nobody wanted to sing, so they always said, 'You do the singing.' I liked singing, but I liked playing bass more and I still do."
Peart has vivid memories of recording Rush's first live album, All the World's a Stage.
"My snare drum broke in the middle of 2112 and my playing got so intense because I was so mad. I was just so beside myself. And I learned a long time ago that anger is an excellent inspiration. I remember that the window of my car was broken, and I had to cover it with plastic – it was parked outside Massey Hall. I remember so much of the time and what it was like."
Lee was reluctant to play the trippy "Jacob's Ladder" on the band's current tour.
"It sounded really naive to me," says Lee, "and the lyrics are not our best. You could see Neil playing with alliteration, which is kind of an exercise really. And I really was afraid of doing that whole keyboard middle part. But when you start playing it, you start remembering what it was like when you wrote it, what you were thinking when you wrote it, and you can kind of get into it – because if we committed it to record it meant we were digging it. 'Cause we always said if there's a song we write that we didn't dig we wouldn't keep it on a record. It reflected who we were then. That's exactly who we were. We were struggling with trying to be more concise and yet still in love with the long instrumental passages."
Lifeson was disappointed after he spent some time listening to a college radio station recently.
"It was all this contemporary music geared for that audience, and it was so disappointing listening to it. Really weak songwriting, insipid vocals and productions. It was really discouraging. I was sorry to hear that. You're waiting for something to happen, musically. You're waiting for some great thing. Like every generation or every decade seemed to have that big thing that carried it through. There's nothing now, at least in rock."
It was scary for Peart's bandmates when he started traveling from show to show via motorcycle.
"It was nerve-wracking," says Lee, "especially for our manager. But now we don't even think about it because he always shows up and he's there before us. He's got it down. He's really super careful. He won't ride in any kind of dicey weather and his bus is never far away."
At least three singers helped inspire Lee's vocal style.
"I was a fan of Steve Marriott who predates Robert Plant for that kind of singing. But Plant definitely was a huge influence 'cause I thought he was an amazing singer. And of course Jon Anderson also had a high voice but he didn't have that kind of aggressive high voice."
Lee and Lifeson were "outsiders" growing up.
"We connected and we bonded," says Lifeson. "We were friends in grade nine, for example, in a class of 30 kids, and we were not friends with anybody in that class, except the two of us. So we were outsiders, but not in that sense of being ostracized or shut out or something. We just kind of hung out, and we felt like everybody else was a jerk. We were doing our own thing, and then we had the bond of music and all of that stuff. And also having the same kind of background with our parents. Yeah, we connected right off the bat. It's amazing. We're still the same. We're best buds. We've lived close to each other for the last 20 years."
Lifeson wanted Rush to resurrect the long-unplayed "Fly by Night" on their current tour.
"I was rehearsing it," he says. "I thought it would sound great, like a modern version that would be much heavier and more powerful. I think Geddy felt that he'd really have a problem singing it. He has a challenge with "Lakeside Park" as it is. "Fly by Night" was just in that range, and we didn't want to drop the key on that one. So the consensus was, let's just pass on that."
Peart didn't enjoy critics' early hostility towards Rush.
"It was shitty at the time," he says. "I feel like we waited it out and the respect came around. It astonished me in the early Nineties to suddenly have musicians admit that they had been inspired and influenced by us. That meant a lot at that time. But of course, being human the. . . disrespect isn't even strong enough a word, is it? The opprobrium was painful. Being popular and hated is not satisfying."
There's a reason for the mutated funk moments that slip into Rush's music.
"When I started playing, I played in R&B bands," Peart says. "I played James Brown, Wilson Picket, Otis Redding and all that. When we were growing up, blue-eyed soul was the thing in Toronto at the time. All the significant bands in the Sixties all had great drummers and they were all playing that kind of music. And so we grew up with it, and I still draw upon that resource constantly just because that was formative and that was the style that we grew up with and the bands that we saw.
Lee originally wanted to be a guitarist.
"I had this attitude that nobody chooses to be a bass player," he says. "The rest of the band decides that you're gonna be the bass player – and that's how it was for me. I was playing guitar in a basement band and our bass player's mother wouldn't let him play in the band anymore, so we had no bass player. So they all looked at me and said, you play bass. I said, well I don't have a bass. They said, well go ask your mother if she'll lend you some money. My mom loaned me 30 bucks, I worked it off in her variety store on Saturdays and I bought my Canora bass and that's how it started for me. And then I fell in love with the idea of being a bass player 'cause nobody wanted to be a bass player."
---
---
-| Click HERE for more Rush Biographies and Articles |-
---