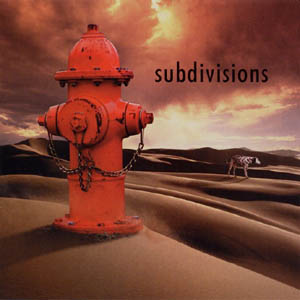 There are 23 active users currently online.
---
---
subdivisions
a tribute
Released: March 15th, 2005

Highest Billboard Chart Position: Did Not Chart
---
|

| --- |Tracks| --- |Liner Notes| --- |Album Artwork| --- |Purchase| --- |

|
---
LINER NOTES

Rhythm Guitars Tracks Vinnie Moore
Bass Tracks Stu Hamm
Drum Tracks Mike Mangini
Keyboards Robert Berry
Keyboards Jeff Feldman
Keyboards Trent Gardner




A BRUSH WITH RUSH THROUGH TIME


Whether through brush, a tapping, anointing touch, a finger of responsibility pointed, or a vigorous two-handed grab and full-body shake. Lee, Lifeson and Peart have provided an often obsessive lifetime mission for countless of hopeful, thoughtful, ambitious musicians through a wide scope of times and climes.

The all-walks array of musicians you see gathered here is testimony to that fact. Sure, #1 are The Beatles -that band will never be surpassed in the rock 'n' roll light bulb category. Staring into the blue TV, thousands said "Now I see the path for me" and the rock map was redrawn - scribbled all over in crayon in fact - after the first sketches were crudely etched down south in the mid-'50s. Then you had The Who, Cream, the Yardbirds, Zeppelin, Sabbath. Later on, it was Kiss, The Ramones and Metallica. These are bands cited to this writer over and over in interviews when the subject of that first unquenchable spark of influence comes nostalgically to mind, smile cracked, ice broken, floodgates open.

Rush is the name I hear most often.

As preposterous or at least surprising during the first five seconds of scoffed reflection that may sound, through seconds six through 20, it becomes plausible, logical, even inevitable. Rush were heavy when heavy was not cool. Rush comprised a clear and clear-headed three guys playing their hearts and minds out on sleeve and stage, all the while Neil Peart aspiring to barbarian wordsmithing invasions into the sacrosanct realm of literature. In essence, Rush made you want to play better than that other guy in class, also providing a reading list for mind-feeding while you recovered from bleeding fingers, tender blood blisters and tendonitis.

And they did this in waves, to full currents of aspiring rockers, beginning thereabouts with underground breakthrough 2112 in 1976, that record combining science fiction with philosophy (Ayn Rand) and literature (George Orwell), metal with progressive rock (Rush single-handedly birthed progressive metal - a huge musical genre today), also delivering half the record went to the future black and red and silver world dramatically imagined.

Successive albums would send future rock stars - then pimply misfits - back to the woodshed, to become more proficient, faster, more disciplined, and yes, better read. A Farewell To Kings, Hemispheres, Permanent Waves and finally the crowning glory of Moving Pictures would comprise a quartet of gravely influential records to cap off the band's fecund '70s.

Rush's legacy would be floodlit night and day had they done no more. To reiterate a point, Rush truly and specifically invented something: progressive metal. Sure Zeppelin, Sabbath and Deep Purple dabbled, but Rush threw themselves into the task, dreaming up (on slide rules?) complex time signatures, Peart filling each fill to the brim with blurry runs down hundreds of exquisitely tuned torn toms - tweeter-twitching dime-sized through to woofer-tearing water tower. All the while Lee provided a myriad of distinctly hearable (in tone - Geddy was the brain-buzzing link between The Ox and Lemmy) and workable bass lines all more fun to follow than any crappy book-sourced exercises (plus you got to listen to Rush while learning 'em), Lifeson dreaming up exotic metal-platformed riffs that opened new doors for a jean-jacketed mullet no longer trapped in his subdivision.

But Rush did make some records after 1981, and this is where a richer, more abstract and complicated form of legacy quietly and authoritatively fills any room in which the band is discussed. Rush grew, and asked their fan base to grow with them. They embraced keyboards and computer technology, they got new haircuts (and the odd Miami Vice suit), they struggled over the craft of simple songs, they found acoustic guitars, textures and noise. Peart found simplicity and, as a result, new emotion and force and universality in his words. All of this upset many fans for a time (OK, some have never recovered), but it also taught them a lesson about exploration, fearlessness, art vs. commerce, operation outside of comfort zones. These were lessons larger and loftier than those spent cramped over a bass at bedside, and these were lessons taken to heart by the artists you hear on this album of re-enjoyed Rush classics.

As of this writing, Rush have, in the past months, finished an insane love-in with the people on this record and a few hundred thousand less musically inclined fans, through a 30th Anniversary tour that each night, crammed in an exhilarating three hours of music. Whether the band records again or tours again... both, fortunately for striving hearts and hands and fingers and minds, are actually looking probable. In the meantime (and it'll likely be a long time - Rush's clocks move slower with each passing decade), kick back with the heartfelt love letters herein enclosed. As is the side effect of any worthy tribute, you'll soon find yourself with the originals back in full rotation, arms flailing at air drums, that monumental and genre-defining Tom Sawyer fill finally worked out for the amusement of the wife and kids.

Martin Popoff
Author of Contents Under Pressure:
30 Years of Rush At Home & Away.

---



THE PLAYERS REFLECT ABOUT RUSH

Robert Berry
I was driving in my BMW, a little box of a thing with killer bass response. On the radio came a band called Rush. At the time, my band's name was Hush, so I was immediately drawn in. The sound was full but, in my BMW, the bass really soared. Being a fan of progressive rock, I was intrigued by the complexity of the music but what really hooked me was the sonic spacing between the instrumentation. From the lows to the highs. Rush seemed to have a different soundscape than most of the bands on the radio.

Hush won a battle of the bands in San Francisco judged by many top names in the Bay Area music scene. First prize included opening for Rush at one of the top venues in the Bay Area, Winterland. We won and that concert (Rush with Hush) went down in local history as one of the best ever in our area. I still get people telling me they saw me perform at that concert and loved my band. And, of course, they tell me I haven't aged a day in 25 years.

Rush is one of the few bands to conquer the divide between the more intimate progressive rock listener and FM rock radio. When bands like Yes and ELP were having trouble staying on the airwaves, Rush maintained their visibility. Always updating their sound but keeping those familiar touches.

Dominic Cifarelli
I first heard of Rush when I was about 10 years old. My older brother and his friends were gathered around in the basement listening to this "crazy" music. We all pretty much stared at the cassette player. No one really said a word. It was just so different and mind altering!

Being Canadian, it definitely gave me a sense of pride. I will always work harder on the music we put out because Rush set the bar quite high for progressive music. I would probably never have my all time fave band, Dream Theater, if it weren't for Rush. I think that is enough in my book.

I would like to dedicate my performances to the memory of Dimebag Darrell: a true guitar god and teacher to millions. All the love. R.I.P.

Jeff Feldman
It was like a cataclysmic bombardment on all my senses. I thought I had been through an atomic explosion. Rush made me realize that sometimes you should think outside of the box.

Rush changed the face of rock in general. They have brought something original and genuine into a genre where so many opt to take the easy route. They have destroyed the envelope, and then rebuilt their own world, where they can do what they wish in any context that pleases them.

Daniel J.
Being someone who grew up more in the '80's and '90's rock world, I was more familiar with bands like Metallica, Dream Theater, '80's Yes, '80's Genesis, Pantera etc. I was introduced to Rush only at a later age and I can say that I definitely realized that Rush is the root of all these bands.

Rush has a very unique and original way of songwriting and you can't avoid the fact that it would influence you. Personally, as a songwriter and musician, I can't deny being influenced by them even though my roots are from a different musical era.

Rush is the father of prog rock and every single band in that genre that came after them learned and is still learning from Rush's music. At the time when Rush had hits on the radio, I am sure that they influenced all bands of that time, whether those other bands were progressive or not. Rush is definitely a one of a kind band and took rock and pop music to futuristic places!

Randy Jackson
I first thought about them as a hard rocking, 3-piece "Yes". I guess it was because they were doing a lot of time signature changes in their music. They really impressed me!

Since Zebra is also a 3-piece band, we were always interested in what Rush was doing to add to their music. They used a lot of synths and I think Rush goes down as one of a handful of bands that managed to stay on top throughout their careers. Their music is as fresh and valid today as it was when it first came out.

Andreas Kisser
The first album that really got me into Rush was "Moving Pictures" and, then, "Exit Stage Left". I was blown away to hear songs like "YYZ", "Red Barchetta", and to see that live, only 3 musicians doing all that wall of sound with good taste that you can find only with them. It's still my favorite Rush phase.

They showed me that there are no limits in music; that you could do a lot more with less.

Rush is a band that survived many different waves throughout the years. They still play for sold out stadiums around the world, playing for younger generations and making them freak out today tike I did many years ago. Long Live Rush.

Mike Mangini
My first impressions of Rush were both very visual and emotional. There was something about the way the music, being so focused, made me see scenes in my mind while listening to "A Farewell to Kings' and "Xanadu". In addition, I could picture the drum kit with a drummer who actually used all those percussion instruments I tinkered with in school concert band. I felt like I was watching the most fun drum set from a riser next to the 'Caves of Ice.'

As a musician, spending time learning Rush songs helped me tie in technique and sounds with musicality in a rock environment 1 had not previously found a use for my orchestra bells that was fun. I'm sure my parents would thank them for keeping me in the basement, being productive while learning Rush songs rather than the alternative activities a teenager might have chosen.

Rush's legacy and contribution is their use of orchestration in the rock context. Their use of sounds and meter changes gave more life and interest to the simple energy that was created by predecessors like Led Zeppelin. Many bands took this application and made careers out of it, but Rush's true use gave them a place in rock history.

Vinnie Moore
My first Rush record was "AH The World's A Stage" which I got about a year after I started playing guitar. I remember learning some of the riffs like the opening to "Bastille Day'. It's a great, raw rock record. One of the coolest things about it though was, "ladies and gentlemen, the Professor on the drum kit". I really loved that drum solo. They should have left the dude's ass off of the front cover, though.

They let me open for them on the Roll the Bones tour and that was a big contribution to my career. Thanks guys!! You're pretty cool for a bunch of hockey fans!!!

Alex Skolnick
It was the first time I had heard odd time signatures. The music still grooved but, somehow, managed to do so without a typical rock 'n' roll backbeat. I also noticed that whereas many other bands had a lot of overlap as far as riffs and other parts. Rush didn't quite sound like anyone else. I was very young and didn't quite get it at first. It sounded very complicated. But over the years, it grew on me.

Rush proved to me that sometimes it makes sense to go against the grain in every possible manner and that musicianship is far more important than image.

Rush is proof that it is possible to be a success in rock by being the most unlikely to succeed. They never had screaming teenage girls as the core of their audience. They never sounded like they were trying to write hits. They never fit in with any other mainstream rock movement. They were average, normal looking guys who managed to find a sound that was different and exciting. They've also lasted longer than most rock bands and managed to maintain a loyal cult-like audience that exists to this day.

Jeff Stinco
When I first heard Rush, I couldn't believe that l was finally hearing a band that was playing amazingly well written songs while keeping a high level of virtuosity on all instruments. I couldn't understand how a three-piece band could sound so big and powerful. Nobody was fighting for the spotlight, everybody shined from the light of the others.

Rush made me understand the power of orchestrating your parts wisely and effectively to make the most of your lineup. They also made me realize the importance of thinking outside the box to create parts that sound fresh and exciting. Some songs really nourished my imagination, both lyrically and musically.

I think that Rush has made so many fabulous records and managed to remain relevant throughout the years, which is really something that sets a great band apart from the masses. I think their songs will still be played on the radio for a very long time and I am sure that many more young players will play air guitar to their records, just like I did, when I was a kid.

---
Executive Producers Peter Morticelli & Mike Varney

Mixed By Robert Berry Soundtek Studios (Campbell. CA)
Mastered By Jim Brick Absolute Audio (New York City)
Pro Mix Editing by Terry Brown (Toronto)
Digital Compilation by Tim Lehner
Pre Production Tracking and Guide Keyboards by Trent Gardner

Jeff Stinco Appears Courtesy Of Lava Records
Dominic Cifarelli Appears Courtesy Of Atlantic Recording Corporation
Jeff Feldman Appears Courtesy Of Atlantic Recording Corporation

Special Thanks:
Braden Asher At Velvet Hammer Management; Samantha Rhulen at Lava Records; Al Harmon At Atlantic Records; Chris Taylor at Sanderson Taylor; Eric Lawrence at Coalition Entertainment Management; Joe Franco at Beatstreet Productions; Billy Morris at Lavaroom Recording; Pat Moore at Soundtek Studios; Phil Greiss at Fatsonixxx Studio, Pointe-Claire, Quebec, Canada; The Music Complex; Pinucty Palace; Joe Pettengill; Mark Zuppe; Steve Ferlazzo; Bob Held; Ed McCIary; Jeff Shreiner; Chris Liebenguth; Ambrosia; Pulse Ultra; Sepultura; Simple Plan; Warrant; Zebra.

Mike Mangini Thanks:
Pearl Drums; REMO Drumheads; Shure Mics; Slicknuts;
Zildjian Cymbals and Signature Drumsticks.

Art Direction and Images Hugh Syme
Design Linda Yue

---
Track Listing

1. Distant Early Warning (4:53)
--Lead Vocals: Randy Jackson
--Guitar Solo: Daniel J.

2. Lakeside Park (6:45)
--Lead Vocals: Sebastian Bach
--Guitar Solo: Daniel J.

3. Limelight (6:10)
--Lead Vocals: Kip Winger
--Guitar Solo: Andreas Kisser

4. Subdivisions (7:49)
--Lead Vocals: Randy Jackson
--Guitar Solo: Dominic Cifarelli
--Keys: Jeff Feldman

5. Different Strings (5:03)
--Lead Vocals: Robert Berry
--Guitar Solo: Robert Berry

6. Tom Sawyer (4:56)
--Lead Vocals: Sebastian Bach
--Guitar Solo: Dominic Cifarelli
--Keys: Jeff Feldman

7. Bastille Day (6:35)
--Lead Vocals: Jani Lane with Dave Brooks
--Guitar Solo: Alex Skolnick

8. A Farewell To Kings (6:51)
--Lead Vocals: Randy Jackson
--Guitar Solo: Andreas Kisser

9. Spirit Of the Radio (5:39)
--Lead Vocals: Kip Winger
--Guitar Solo: Jeff Stinco

10. Didacts and Narpets (1:09)
--Drums: Mike Mangini

11. 2112 Overture/Temples Of Syrinx (7:31)
--Lead Vocals: Jani Lane with Dave Brooks
--Guitar Solo: Vinnie Moore

---